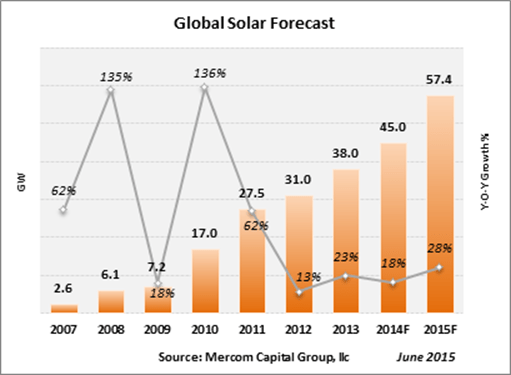 According to new analysis from Texas-based Mercom Capital Group LLC, global solar installations are forecast to reach 57.4 GW this year.
Mercom expects China, Japan and the U.S. to account for approximately 60% of new solar installations. Since Mercom's previous forecast three months ago, China has revised its solar installation target upward by 20% to almost 18 GW.
Mercom forecasts Japanese solar installations this year will be approximately 10 GW. The Ministry of Economy, Trade and Commerce announced feed-in tariff (FIT) cuts in March.
The U.S. is expected to install approximately 8.8 GW of solar this year as projects ramp up to beat the expiration of the federal investment tax credit.
The U.K. is expected to have its best year yet for solar installations, with the rush prior to before the April expiration of Renewables Obligation Certificates for projects larger than 5 MW. The market going forward is expected to move towards smaller projects that are incentivized through the FIT program.
Solar PV installations in Germany continue on a downward trend with only 400 MW installed in the first four months of this year compared to 622 MW installed during the same period last year. As a result, Mercom has reduced its forecast for Germany to 1.6 GW installed for the year.