Worldwide market shipments of solar photovoltaic inverters declined by 5% in the second quarter of this year (Q2'13) as compared to the same quarter in 2012 (Q2'12) – the first such decrease since the third quarter of 2011 – as demand fell in key European countries, according to a new report from IHS.
The report says PV inverter shipments in Q2'13 amounted to 8.3 GW, down from 8.7 GW during Q2'12.
The main culprit for the decrease in PV inverter shipments worldwide was the sharp slowdown in the European market, IHS reports. Shipments in the Europe, Middle East and Africa (EMEA) region during the first half of this year fell more than 40% compared to the first half of 2012. The EMEA region accounted for only 6 GW worth of shipments in the first half of the year, down from 10 GW during the same period in 2012, as illustrated in following chart: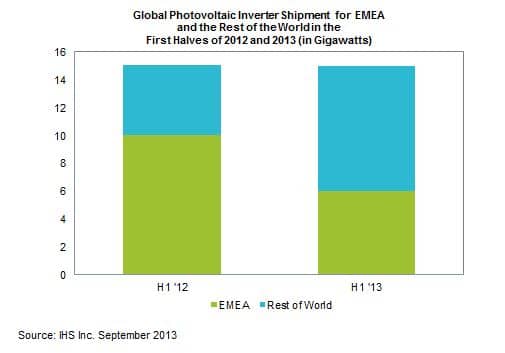 'The pace of contraction for inverter shipments in critical European countries such as Germany and Italy has been faster than expected, with some of these markets seeing their demand decline by more than 70 percent this year,' says Cormac Gilligan, senior PV market analyst at IHS. 'Some inverter suppliers have been very reliant on these historically large markets. Because of this, inverter suppliers are seeking new markets and have expanded their presence internationally in high-growth countries, including the United States, China, Japan and India.'
Average global inverter prices continued to decline, dropping by 10% in Q2'13 compared to the first quarter. IHS says the decline was the result of inverter shipments shifting to lower-cost markets in Asia and continued price erosion in mature solar markets. Revenue decreased by 18% year-on-year in Q2'13 to $1.6 billion.
In Europe, inverter revenue fell by more than 50% in Q2'13, with markets such as Germany and Italy suffering revenue declines of more than 60%.
Inverter shipments will rebound to total more than 34.5 GW this year, IHS predicts. However, the majority of inverter demand is forecast to come from the Americas and Asia, which will continue to put pressure on inverter suppliers that do not have a strong presence in these markets. Owing to this market shift, IHS expects inverter suppliers – particularly Chinese and Japanese firms such as Sungrow, Omron, Tabuchi and TMEIC – to increase their market share substantially this year at the expense of some of the European suppliers.