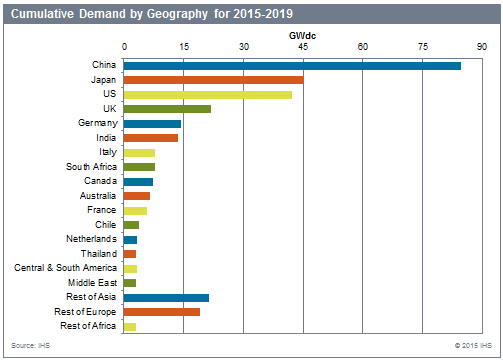 Total global solar photovoltaic capacity is forecast to reach 498 GW in 2019 – 177% higher than 2014 – according to new analysis from IHS Technology.
While total global solar PV demand is projected to grow steadily, the large number of discrete country markets at the gigawatt-level will help reduce demand volatility, IHS says.
Based on findings of the latest IHS Marketbuzz report, global solar demand is expected to reach 75 GW in 2019, which is 66% higher than in 2014. Last year, the largest global markets were China and Japan, which together accounted for half of total demand. The U.S., the U.K. and Germany together accounted for another quarter of total demand.
'In the five years between 2015 and 2019, IHS expects that 11 global markets will exceed the average annual demand level of 1 GW," says Susanne von Aichberger, solar industry analyst for IHS Technology, formerly Solarbuzz." This large number of country markets reduces the risk of another explosion in the global PV market and of an overly strong capacity build-up. An increasing number of markets are entering the post-feed-in-tariff phase and embracing the integration of PV into the electricity market, which will help the market to avoid boom-and-bust situations."
For information about the IHS Marketbuzz report, click here.