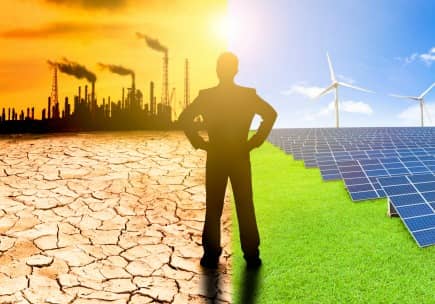 The Oregon Legislature has passed a bill to significantly increase the renewable portfolio standard (RPS) for the state's two largest utilities to 50% by 2040. S.B.1547-B, referred to as the Clean Electricity and Coal Transition plan, will also require the utilities to completely eliminate their use of coal power. The legislation now goes to Gov. Kate Brown, who is expected to sign the bill into law.
Investor-owned utilities Pacific Power and Portland General Electric (PGE), which together supply about 70% of the state's electricity, collaborated with energy stakeholders, environmental groups and consumer advocates to help develop the legislation. S.B.1547-B includes language from H.B.4036, a bill the Oregon House of Representatives passed in February, and the final legislation aims to help address some lawmakers' concerns.
The state's RPS was established in 2007 and currently requires Pacific Power and PGE to obtain 25% of their power from renewable resources by 2025. S.B.1547-B will hike their RPS requirements to 50% by 2040. (Notably, S.B.1547-B includes no changes to existing renewable standards for consumer-owned utilities, which have lower requirements.)
Jennifer Martin, partner at law firm Stoel Rives, says the new legislation is "one of the most aggressive RPS standards in the nation" and follows just behind the 50% by 2030 standards in New York and California, 75% by 2032 mandate in Vermont, and 100% by 2045 RPS in Hawaii.
Furthermore, S.B.1547-B will require Pacific Power and PGE to be coal-free by 2030. As with most comprehensive legislation, though, there is a minor catch: PGE is technically still allowed to keep its ownership in a small amount of coal-fired generation from a Montana facility until 2035.
According to a PGE-supplied overview of the legislation, S.B.1547-B maintains a measure to ensure that the new mandates will not lead to excessive increases in rates: "Customers of PGE and Pacific Power will continue to be protected by the state's four percent incremental cost cap, which means that utilities are not required to add renewables to their portfolio if the incremental cost to customers is more than four percent higher than the cost of developing non-renewable resources."
The summary adds that the legislation also includes a "safety valve" to allow the Oregon Public Utility Commission to suspend a utility's RPS schedule if the mandate causes issues with grid reliability.
Jim Piro, PGE's president and CEO, says the legislation takes "a sensible approach."
"We were pleased to be part of a collaborative process that puts Oregon's electricity sector on a path to achieve its state carbon reduction goals as we plan for Oregon's energy future," comments Piro in a press release.
"Maintaining the affordability and the reliability of the electric grid is very important to us," adds Scott Bolton, Pacific Power's vice president of external affairs. "Working through the legislative process with a diverse range of stakeholders, we have meaningfully advanced Oregon's clean energy future in a way that is both workable and affordable."
In a statement, State Sen. Lee Beyer, D-Springfield, who carried the legislation, says the bill "strikes a good balance between phasing in clean energy sources for all of Oregon's electricity supply while taking into account the needs of utilities and ratepayers."
However, not everyone is pleased with the outcome: State Sen. Alan Olsen, R-Canby, claims "utilities will see costs grow up to four percent per year, which will be passed on to consumers in Oregon."
"As energy prices increase, we will see the cost of electricity, groceries, and other goods and services increase, too," says Olsen in a release. "We should be limiting the cost to ratepayers and adding the renewable energy we already have – hydroelectric power from our rivers – instead of passing an expensive mandate that only benefits out-of-state green energy special interests."
S.B.1547-B also establishes an in-state community solar program and features provisions related to renewable energy certificates, such as the inclusion of biomass resources, among other things.