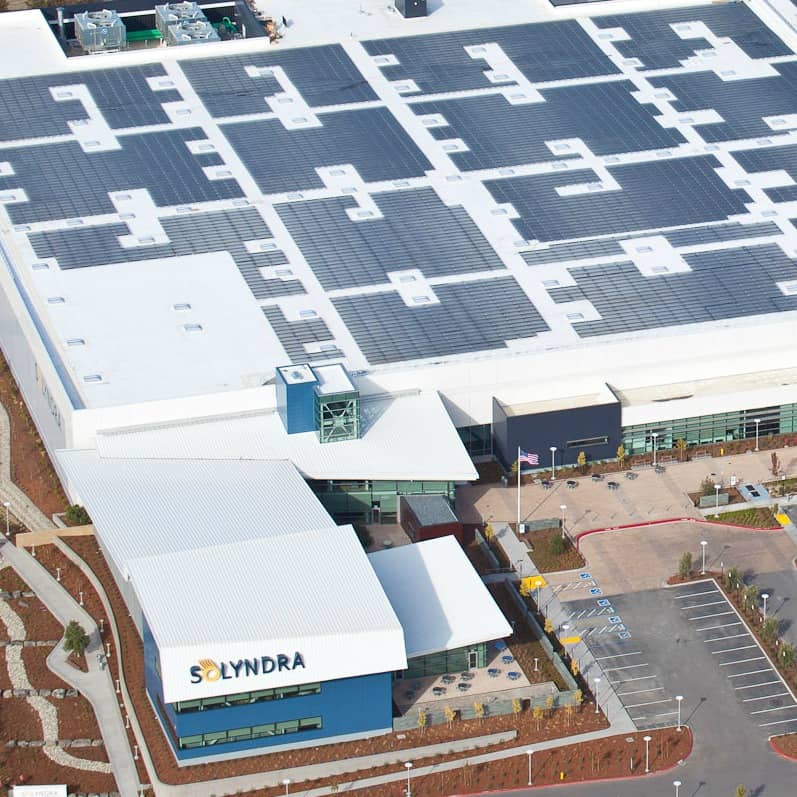 The bankruptcy and factory shutdown of any U.S.-based solar manufacturer represents a setback for the industry. But when that solar manufacturer is the recipient of the Department of Energy's (DOE) first finalized loan guarantee and has hosted high-profile factory tours from President Obama, the news seems even more grim.
Solyndra Corp.'s Aug. 31 announcement that it is ceasing the manufacture of its proprietary cylindrical PV modules and filing for Chapter 11 bankruptcy follows several months of investigation by members of the U.S. House Energy and Commerce Committee. Chairman Fred Upton, R-Mich., and other members have criticized the DOE for awarding Solyndra its loan guarantee and tussled with the White House's Office of Budgetary Management (OMB) over the release of documents pertaining to the Obama administration's loan-guarantee due-diligence process.
Now that Solyndra has shut down, the political firestorm over the DOE loan-guarantee program will likely intensify, Salo Zelermyer, an associate at the Washington, D.C., office of law firm Bracewell & Giuliani, tells Solar Industry.
'I'm sure it's only going to embolden those folks on the committee who are concerned about the methods through which the White House and DOE were making decisions on who to give loan guarantees to,' he predicts. 'It fits right into the talking points of people who either oppose the program or support it and question its selections.'
Indeed, an Aug. 31 joint statement by Upton and Oversight and Investigations Subcommittee Chairman Cliff Stearns, R-Fla., confirms that the committee will continue to investigate the Obama administration's 'dubious investment.'
Earlier this year, as the House committee and OMB's contentious exchange over Solyndra's loan-guarantee documents began to heat up, Solyndra's executives sent a letter to House leadership insisting that the company was performing adequately, Zelermyer notes.
However, a series of announcements made by Solyndra over the past year reveal ominous cracks in the company's financial foundation.
As early as April 2010, just over a year after the finalization of its $535 million loan guarantee, Solyndra found its survival questioned in an audit statement by PricewaterhouseCoopers. Solyndra had recently reported a $172.5 million net loss.
Two months later, Solyndra withdrew its planned initial public offering, citing troublesome market conditions.
In November 2010, the manufacturing ramp-down began, as Solyndra closed one manufacturing facility and postponed plans to expand its second factory, laying off 40 employees and releasing 150 temporary workers.
Shortly after the House committee's investigation began in February, Solyndra sought to re-establish a path to profitability by closing a $75 million secured credit facility and restructuring its controversial DOE loan guarantee.
'We are confident that with this round of funding and the continued support of our existing investors, we are on track to be cashflow positive at the end of this year,' CEO Brian Harrison optimistically stated in March.
Instead, with the company now bankrupt, solar energy proponents and detractors alike are wondering where Solyndra – and its benefactor, the DOE – went wrong.
'So many factors go into the due-diligence process that ultimately determines whether an application has a reasonable prospect of repaying a loan,' explains Zelermyer, who has served as senior counsel in the Office of the General Counsel at the DOE.
As is the case with any government-run program, DOE loan-guarantee program personnel undoubtedly engage in constant monitoring to track the progress of existing funding recipients and, if necessary, re-evaluate the methods used in scoring applications, he adds.
Pinpointing exactly where – or if – the DOE's decision-making faltered during its dealings with Solyndra's loan guarantee may be an impossible task. 'Unless you were at the table looking at the numbers, it's hard to say,' Zelermyer stresses.
Loan guarantee or no loan guarantee, an inability to reduce costs fast enough in a highly competitive market likely factored into Solyndra's demise. Although the company's cylindrical modules offered unique performance features to its target market of large commercial rooftops, manufacturing costs – and, thus, sales prices – remained stubbornly high.
'Despite Solyndra's operating its 110 MW facility close to full capacity in recent months, we estimate that its manufacturing costs still far exceeded the price at which it had to sell its modules in order to make an investment case for its customers,' said IMS Research senior research analyst Sam Wilkinson in a report. 'It was losing money fast, and for that reason, the closure really comes as no surprise.'
'Whether further capacity expansion, increased production and a few more years of technical advancements could have changed the situation is debatable, but now we will never know,' Wilkinson added.
Solyndra's failure underscores certain struggles and risks that are unavoidable in the fledgling renewable energy sector, according to Zelermyer.
'There is a reason that the DOE loan-guarantee program was put in place – for the purpose of funding these projects that might have otherwise had difficulty in the private markets,' he points out. 'It was always understood that there was a risk inherent in that.'
The DOE maintains that it operates the loan-guarantee program with full awareness of this risk, and Congress has set aside separate funding in order to cover defaults or losses.
'We have always recognized that not every one of the innovative companies supported by our loans and loan guarantees would succeed, but we can't stop investing in game-changing technologies that are key to America's leadership in the global economy,' DOE staff wrote in a recent blog post.Â
In the wake of Solyndra's bankruptcy, the core ideological question of whether the federal government should be taking on such risks – or introducing other solar-stimulating measures – is now being vigorously revisited.
'Some would argue that [the company's failure] is why we need things like a national renewable electricity standard or something along those lines, as a market-forcing mechanism for these companies,' Zelermyer says.
On the other side, he continues, members of the House committee and others believe that 'the more government interferes in the markets, the more distortion it's created – that there may be a time and place that these sectors are successful, but they have to rise up on their own and sink or swim.'
Meanwhile, many solar sector participants still hold out hope that the popular loan-guarantee program will see an extension past its rapidly approaching end date this month.
'Clearly, [Solyndra's bankruptcy] is going to ratchet up the pressure on those who would like to see the program continue to get funding,' Zelermyer says. 'For the DOE's sake and taxpayers' sake, let's hope there are many more success stories than stories that end like this.'
Photo credit: Solyndra