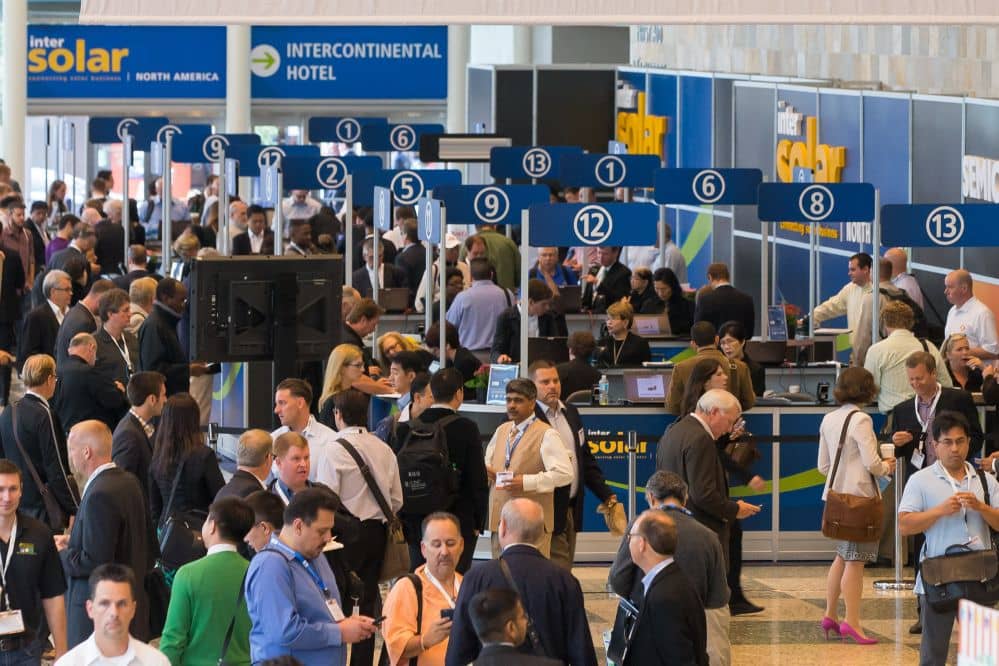 Thousands of industry stakeholders were in attendance this week at Intersolar North America, whose exhibition and conference both focused on the areas of photovoltaics, PV production technologies, energy storage and solar thermal technologies.
Intersolar North America, organized by Solar Promotion International GmbH Pforzheim and by Freiburg Management and Marketing International GmbH (FMMI), had estimated there would be more than 18,000 attendees and 500 exhibitors during the course of the three-day exhibition.
This year, a new electrical energy storage exhibition took place at the San Francisco event. In partnership with NAATBatt International, Intersolar North America expanded its focus on energy storage to educate the industry on this rapidly growing sector. According to a white paper published by GTM Research and commissioned by both Intersolar and the California Solar Energy Industries Association (CALSEIA), the U.S. solar-plus-storage market will grow to $246 million in 2015 and $643 million in 2016 – and, by 2020, it will be a $3.1 billion industry.
At a keynote session, New York state Sen. Kevin Parker and Bernadette Del Chiaro, executive director of CALSEIA, joined JB Straubel, Tesla co-founder and chief technology officer, onstage to discuss the critical turning points the industry will face in the next year – specifically, the growing role of energy storage paired with solar systems, as well as upcoming policy initiatives.
"Storage is a key part of moving us closer to a grid that is 100 percent renewable and bringing more solar online," said Straubel." We've demonstrated that by increasing a battery's energy capacity, you can fundamentally reduce costs. That moves us closer to realizing our goal of transforming how energy is generated."
With the looming expiration of the federal investment tax credit, Del Chiaro discussed upcoming policy challenges, particularly related to net-energy metering and renewable portfolio standards, and outlined what it will take to win these critical campaigns.
"Like any growing industry, the next few years are going to be tumultuous in solar, but we can come out stronger by working together and increasing the number and diversity of voices calling for more solar power," she said.
During a ceremony on the exhibition floor, winners were named in the fourth annual Intersolar AWARD for Projects in North America. The ceremony also honored former California Assemblyperson Nancy Skinner with the Champion of Change AWARD, which is presented in conjunction with CALSEIA to an individual who has demonstrated an outstanding commitment to supporting renewable energy at the national and international levels.
Since the 1980s, Skinner has worked on global warming and environmental policy and has been instrumental in passing several critical pieces of legislation, such as A.B.510, California's net-metering law, and A.B.2514, which increased the amount of energy storage installed in the state.
The winners of the"Solar Projects in North America," category, selected by an independent committee of industry experts and trade press, were OutBack Power's GridZero System at the Halliburton Soap Factory in Ontario; Solar Frontier's Catalina Project in California's Mojave Desert; and tenKsolar's installation at the Daughters of the American Revolution's Constitution Hall in Washington, D.C.
Since 2012, says Intersolar, this category recognizes landmark projects that exemplify a high degree of technological innovation, uniqueness, economic feasibility, and benefit to the environment and society.
Last year, a total of 17,473 trade visitors participated in Intersolar North America. The conference featured 40 sessions, 25 workshops and more than 200 speakers. Intersolar exhibitions and conferences are held in Munich, Germany; San Francisco; Mumbai, India; Beijing; and Sao Paulo, Brazil.
"With the increase in the United States' installed solar capacity, the growth of energy storage and stellar job creation statistics, it's an exciting time to be in solar," said Daniel Strowitzki, CEO of FMMI.