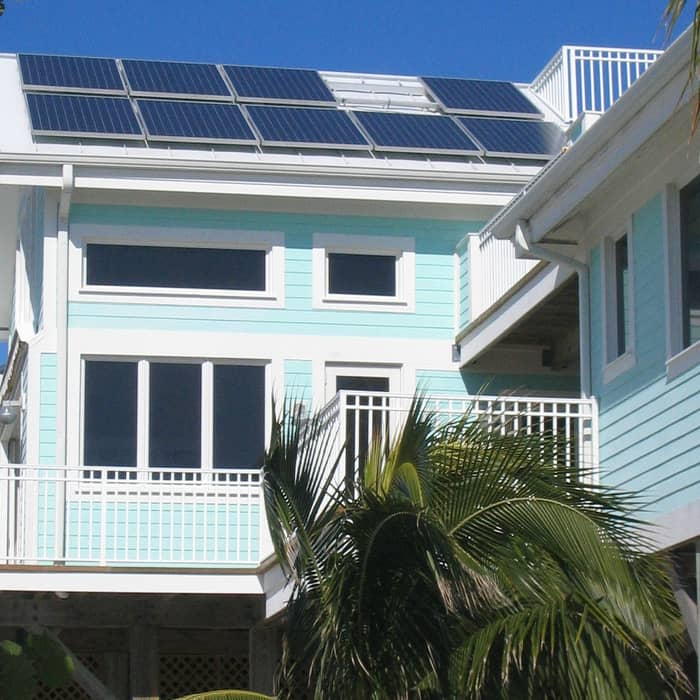 As is the case in many states that offer solar rebates, Florida's solar incentive programs have had too many applicants and not enough money. A rebate program passed by the state's legislature in 2006, for instance, was supposed to last for four years but was only funded for three.
'We didn't have enough money to adequately fund the program, so demand was constantly outrunning the funding,' says R. Bruce Kershner, executive director of the Florida Solar Energy Industries Association.
Solar advocates hoped that Property Assessed Clean Energy (PACE) legislation passed in 2010 would pick up the solar development slack.
'We saw PACE as a great bridge to get us from rebates over to something that we felt was more viable – something our very fiscally conservative legislature here in Florida could embrace,' says Kershner.
Under PACE programs, owners that install clean energy technology pay for the systems through an assessment on their property tax bill rather than by putting money down or taking out loans. Subsidies are not involved, which tends to make PACE financing an attractive option, especially in fiscally conservative areas.
PACE in Florida ran into trouble almost immediately after then-governor Charlie Christ signed PACE legislation into law. In July 2010, the U.S. Federal Housing Finance Agency (FHFA) issued a statement saying that PACE liens present 'significant safety and soundness concerns.'
State and local governments were encouraged to halt such programs until concerns were addressed. This essentially froze residential PACE markets across the country.
'We have a number of different entities out there that are trying to continue to work within the PACE guidelines – primarily in the commercial sector – until the [FHFA] figures out what we're going to be able to do with residential PACE,' says Kershner.
Florida's PACE legislation is unique, he adds, because it allows improvements to buildings that make them more resistant to damage from wind, caused by hurricanes, for example.
'A roadblock was thrown up, and we've been stumbling along ever since, not being able to get traction with this great piece of legislation,' says Kershner.
He adds that PACE legislation is even more important in Florida, than in other states – such as California, New Mexico and New Jersey – that have more robust solar programs.
'These states are more progressive when it comes to the development of renewable energy – in particular, solar,' he notes. 'They're more progressive when it comes to energy policies in their states. We have not been able to do that because of our fiscally conservative legislature and cabinet.'
PACE proponents in Florida and beyond have been fighting the FHFA's decision. In July 2011, H.R.2599 was introduced in the U.S. House of Representatives that would 'prevent Fannie Mae, Freddie Mac, and other federal residential and commercial mortgage lending regulators from adopting policies that contravene established state and local Property Assessed Clean Energy laws.'
'[The legislation has] bipartisan support, but it's tough to get anything through Congress these days,' says David Gabrielson, executive director of PACENow, a group that promotes the use of PACE.
At the same time, a lawsuit was filed in four different U.S. District Courts around the country. The Northern District Court of California issued a preliminary injunction against the FHFA in August 2011, saying that the agency had violated the Administrative Procedures Act when it issued its July 2010 statement regarding PACE and Freddie Mac and Fannie Mae.
As a result, the FHFA was ordered by the court to issue a rule, which was released on June 15. Under this proposed rule, the FHFA has directed Fannie Mae and Freddie Mac not to purchase any mortgage where PACE financing with a priority lien was placed on the underlying property. Comments will be received for 45 days.
According to Gabrielson, more than 33,000 people submitted comments to the FHFA's advance notice of proposed rulemaking, with the overwhelming majority in support of PACE. He says that FHFA is ignoring these comments with the issuance of the proposed rule.
'PACE programs have been – and can be – designed with standards and safeguards that protect the interests of government, property owners and mortgage lenders alike,' he adds in an emailed statement.
Programs move forward
Because the FHFA ruling does not affect commercial properties, PACE programs are not at a complete standstill. Three programs have been created in Florida that deal with commercial properties.
Ygrene Energy Fund has formed the Clean Energy Green Corridor District program, which focuses on South Florida. Ygrene will administer the program, which is expected to launch fully this fall or in early 2013. As of June 8, seven communities in Miami-Dade County, including Miami and Coral Gables, have signed on to the program.
The Florida PACE Funding Agency was created in June 2011. According to its website, the agency's mission is to facilitate the implementation, planning, development and financing of a platform in order to help cities and counties take advantage of PACE programs.
In April, the Town of Lantana approved a commercial PACE program, which was developed by the Florida Green Energy Works Program and administered by EcoCity Partners. West Palm Beach opted in to the program last week.
Additionally, the Florida Green Energy Works Program, which is part of the Florida Green Finance Authority, has recently developed a third-party ownership financing product that works with PACE, called PACE 3P.
'There's a lot of excitement about this,' says Mike Wallander of Florida Green Energy Works. 'The bottleneck in solar project development is financing. We've found a way to marry the benefits of solar lease and solar [power purchase agreements] with all of the tax incentives.'
He adds that PACE programs will help increase solar development in Florida, but says a variety of factors affect how much solar is added to the state's energy mix.
'It will jump-start solar development in the state, but the other challenge is that we don't have complementary incentives that exist in places like California, New Jersey and North Carolina that lower the costs of projects even further,' he explains.
'Right now, we're still a ways away from market conditions that would unlock the market – but we're very close,' he adds.
Photo: PV array on a Florida beach house. Photo credit: eastpole via Flickr