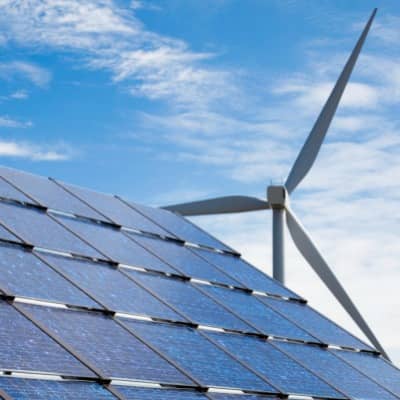 Boston-based First Wind has begun construction on 21 MW of solar projects in the Massachusetts communities of Warren and Millbury – inaugurating the company's entry into the solar sector. The veteran wind power developer is entering the field under the mantle of the First Wind Solar Group, which the company says it formed to explore U.S. solar power development opportunities in the Northeast, West and Hawaii.
First Wind says its Massachusetts solar project portfolio will include a 3.9 MW project in Millbury and three sites in the town of Warren with a combined total of 17 MW. Construction on the Warren and Millbury projects is being led by Borrego Solar Systems Inc., which is also building other solar plants in the commonwealth. Construction began on the First Wind solar projects in September, and all four array sites are expected to be operating by June 2014.
Financing for the projects is coming in part from Cleveland-based KeyBanc Capital Markets. KeyBank National Association provided a construction and term facility loan for the project, and U.S. Bank provided the tax equity. Andrew Redinger, managing director and head of the financial services firm's utilities, power and renewables group, says First Wind's lack of experience in the solar sector is no deterrent to investment. KeyBanc has financed 60 projects in the wind and solar space – 12 of them with First Wind.
'They are a very good developer from a financing perspective, even if the firm has no installed solar projects to its credit," he says. 'They really know how to put a deal together.'
Redinger says a company's approach to putting a project together and its overall project management record is more important than specific solar experience. At the end of the day, even if there are not decades of analysis on renewables, it is still possible to identify the characteristics of a well-designed project.
'From a project development standpoint, the process is still the same even if the technology is different,' Redinger says. 'You build something that generates electricity and connect it to the grid.'
In all likelihood, a growing number of these connections are going to be with solar energy projects and KeyBanc is one of a number of financiers looking to establish relationships. Moreover, the sources of capital are increasing as solar projects are becoming more common and therefore are seen as less risky.
'We like to be the first mover for deals like this that are well put-together,' he says. 'We are continually on the lookout for high-quality developers. Most of the activity is in the solar space. Solar is going to continue doing really, really well.'
Most of the electricity generated from the four solar sites will be supplied to the University of Massachusetts (UMass) Lowell campus and UMass Medical Center through a 30-year power purchase agreement. In addition, the towns of Millbury and Orange have agreed to purchase a smaller portion of the power under net metering agreements.
According to Redinger, having a customer in hand is a critical component for a prospective solar project developer in that it takes care of a major source of risk. 'If you presell the output, you will be able to find the cheapest source of capital out there,' he says. 'You can still get capital for a project where the power isn't sold; it will just be more expensive.'
In addition to commercial-scale projects like the ones First Wind is taking on in Massachusetts, Redinger says he sees a great potential opportunity in distributed solar, although working out how to finance such projects is still something of a challenge.