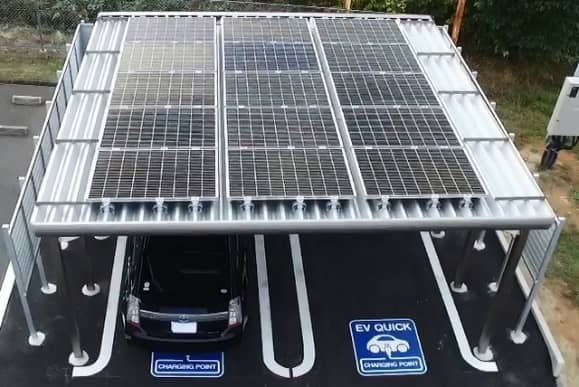 Kyocera Corp. and its subsidiary, Kyocera Communication Systems Co. Ltd., have supplied two solar-powered electric vehicle (EV) recharging stations in Kyotango, Japan.
The two stations, installed by Ostem Co. Ltd., each include a 3.2 kW Kyocera solar power generating system, a standard charger, a 30 kW Nichicon quick charger and a 7.2 kW Nichicon battery storage system. In addition, the stations are equipped with LED lighting and a disaster control box for emergency supplies and equipment.
Kyocera says that the stations have also become central hubs for back-up power during emergencies due to their ability to switch to grid-independent operation, thus improving access for electric-powered transportation and contributing to the community's overall disaster preparedness infrastructure.
During normal operation, electricity generated by solar modules assists the commercial grid in powering the standard charger and is sent to the storage system for LED lighting at night. In times of disaster, the solar-generated electricity saved in the storage system powers the disaster control box in addition to powering LEDs at night. By operating off-grid during disasters, the stations will enable the community to charge devices such as mobile phones during power outages.