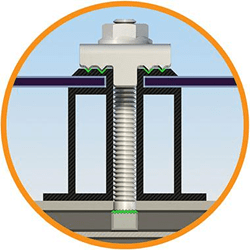 The Los Angeles County Department of Public Works has confirmed IronRidge's integrated ground system for bonding solar modules to UL2703 standards.
Eliminating the need for separate module grounding parts and procedures, the system bonds solar module frames directly to IronRidge XR rails. The heart of the system is the grounding mid clamp, which uses 'teeth' to pierce the anodized coatings of both the module frame and the XR rail. This forms a secure electrical bond that is repeated throughout the array. The integrated grounding system has been tested and listed for bonding and grounding to UL2703 by Intertek.
Craig Carni, chief technology officer and founder of IronRidge, says a collaboration with Los Angeles County is important for avoiding significant long-term safety risks.
"LA County Department of Public Works is committed to public safety above all else," says Mostafa Kashe, chief electrical inspector of the department." By working closely with me and inspector David Bertrams, IronRidge has forged a new template for designing and evaluating electrical grounding systems for solar applications."