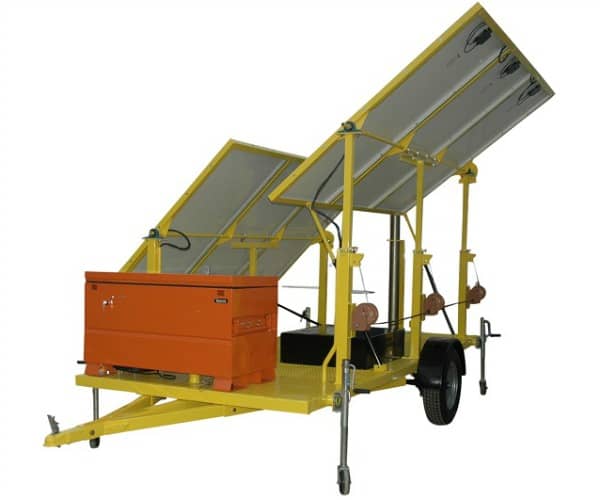 Texas-based Larson Electronics has released a solar-powered generator that includes four 300 W photovoltaic panels, a solar charging system, a battery bank and manual crank mast packaged in a trailer configuration.
Larson says the SPLT-1.2K-200A-19 is a 1.2 kW solar generator system that replenishes 100 amp-hours of usable battery capacity per day. The PV panels are mounted to a rotating axis assembly and can be rotated until they face inward, which protects the panels during transport. When deployed, the panels are rotated until they face upward.
In this 24 V system, each panel is terminated with a fused combiner box with a single lever action cut-off switch. With the switch set to the 'on' position, the combiner box passes power to the 80-amp-capacity OutBack Extreme charge controller, which charges a 200-amp battery bank.
The 24 V battery system consists of four 6 volt batteries tied together in series and parallel. The batteries are spaced apart, strapped to the battery tray and covered with a protective shield. In order to ensure that the 50% threshold on the batteries is controlled, the solar trailer includes a system of min/max voltage sensors and relays that monitor the voltage produced by the batteries and will automatically shut off power distribution when the battery capacity falls below 50%.
All electrical components – including the combiner panel, charge controller, battery monitoring and ground fault isolation – are encapsulated in a NEMA 3R box that is bolted to the trailer.
'Our new solar-powered light mast is fully solar and requires no fuel to operate,' says Rob Bresnahan, a spokesperson for Larson Electronics. 'In the event that there is an issue with the solar trailer, the operator can simply remove the SD card from the Mate 3 and send it in for analysis.'