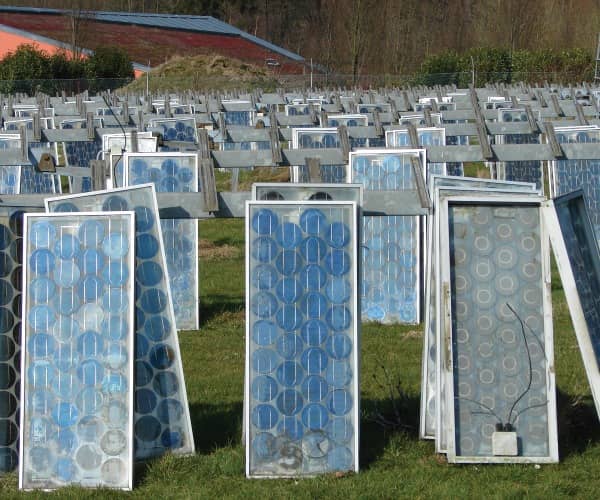 The San Francisco-based Silicon Valley Toxics Coalition (SVTC) has released its 2015 Solar Scorecard, which ranks manufacturers of solar photovoltaic modules according to a range of environmental, sustainability and social justice factors.
SunPower (97), SolarWorld (93), Trina (92), REC (82) and Yingli (80) earned the top scores this year.
The sixth-annual edition of the scorecard features new active participation from LG, Jinko, Kyocera, AUO and WINAICO. The 13 companies that responded to the 2015 Solar Scorecard represent just 35.8% of the total PV module market share, with the remainder of the information gathered from publicly available documentation.
'The number of companies committed to reporting environmental practices continues to fluctuate wildly from year to year,' says Sheila Davis, executive director of SVTC. 'The inconsistent participation is largely due to bankruptcies, restructuring and new entries into the solar PV manufacturing market. We need consistent industry-wide sustainability practices and reporting procedures that consumers can expect from all solar companies.'
This year's scorecard shows movement on a number of issues related to the environmental impact from the manufacture of PV wafers and cells. Fourteen companies manufacture PV modules with amounts of cadmium or lead below regulatory thresholds set by the European Union, the world's most stringent standard. This is an increase from 12 companies in 2014.
Methods used by PV manufacturers to report the use of hazardous chemicals to the public remain inconsistent. Only six PV manufacturers (Trina, AUO, SunPower, SolarWorld, Sharp and JA Solar) do extensive chemical emissions disclosure and reporting on their websites. Sixteen companies – up from 13 in 2014 – report one or more categories of emissions, such as hazardous waste, heavy metals, air pollution, ozone depleting substances and landfill disposal.
Another important metric is the growing interest in the end-of-life recovery of PV products. Six PV manufacturers have written letters to the Solar Energy Industries Association (SEIA) seeking action on extended producer responsibility (EPR) for PV modules in the U.S. This number has doubled from the 2014 Scorecard. Most PV modules sold in Europe are covered by a pre-funded EPR scheme to ensure safe and responsible disposal. No PV modules in the U.S. come with EPR.
Over the past six SVTC surveys, 14 companies have said they would support public policy for an EPR scheme for PV modules – Aleo Solar, Avancis, Eurener, First Solar, REC, SolarWorld, SOLON, SoloPower, SunPower, Suntech Power, Trina Solar, Up Solar, Jinko Solar and Yingli. It should be noted that SolarWorld has expressed concerns about SEIA's ability to lead an EPR program in the U.S.
'The SVTC Solar Scorecard requires PV module manufacturers to report on sustainability performance metrics, disclose environmental, health and safety certifications, and report other information,' says Dustin Mulvaney, associate professor at San Jose State University, who helped the SVTC interpret the scores. 'These practices are increasingly commonplace in other electronics and semiconductor industries. The fact that company scores continue to increase is a sign that solar industry leaders are integrating sustainability reporting into operations.'
In November 2014, the SVTC announced plans to expand its scorecard into a standard that meets the criteria of the American National Standards Institute. With active manufacturer participation more than doubling this year, the SVTC believes that interest and participation will continue to increase as the Solar Scorecard transitions into a formal accredited standard by 2017.
The full results of the 2015 Solar Scorecard can be found here.