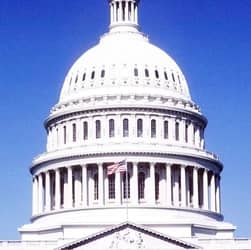 New legislation agreed upon by the U.S. House of Representatives and Senate on Dec. 22 – which focuses on a payroll tax extension, unemployment insurance benefits and Medicare – does not include an extension of the U.S. Department of Treasury's Section 1603 cash-grant program, which is scheduled to expire at the end of 2011.
The solar sector and other renewable energy stakeholders had vigorously lobbied for the continuation of this program in recent months.
The final agreement, which has been signed into law by President Obama, includes future work by senators and representatives on reconciling the differences between the chambers. Congress is expected to reconvene the week of January 23, 2012.
Rhone Resch, president and CEO of the Solar Energy Industries Association (SEIA), said in a letter to members that these negotiations – while controversial and uncertain – may provide a new opportunity for including an extension of the Section 1603 program and other renewable energy tax provisions.
Resch wrote that there is 'support in Congress for addressing business and energy tax extenders as part of a longer-term agreement' on payroll taxes and other economic provisions, and that SEIA plans to continue to push for extension of the popular 1603 program.