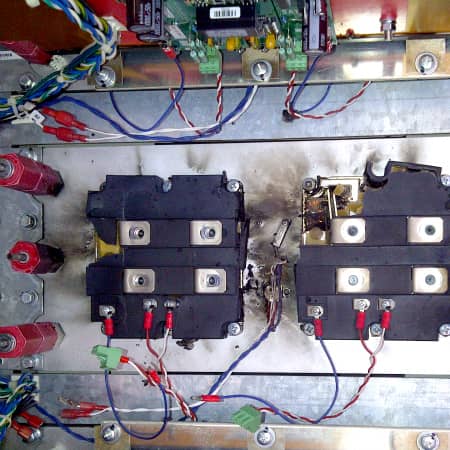 How can solar project owners and operators ensure that their inverters – and, thus, their installations – stay online when their inverter supplier has disappeared?
The question took on immediate urgency last month at project sites across the U.S. following the news that Satcon, which has long promoted itself as the No. 1 utility-scale and commercial-scale PV inverter manufacturer in North America, had begun Chapter 7 liquidation proceedings.
Satcon had initially promised to honor warranties on the thousands of its inverters deployed on the continent after its Chapter 11 bankruptcy last fall. But the liquidation step made any initial post-bankruptcy plans uncertain – potentially leaving plant owners out in the cold.
'When you get to that level of liquidation, customers are completely exposed in a way that leaves them very vulnerable to not having service and access to spare parts and components to make sure their units are up and running,' says Michael Levi.
Levi, who previously spent years as an executive at Satcon, is now working on tackling those service vulnerabilities in the company's inverter fleet by performing consulting work for Trylon TSF. Trylon, a Elmira, Ontario-based service provider, was recently authorized by Satcon's liquidation trustee to take on inverter field services for the fallen manufacturer.
Through its newly expanded SolarShield network, Trylon will treat the common inverter problems that Satcon's customers have already seen crop up in their installations, including blown fuses, overheating and environmental erosion side effects.
'We have a huge population of installs coming out of warranty or going in their second, third or fourth year – that's when issues happen,' Levi says.
Global problem and opportunity
Across the Atlantic, another ex-Satcon executive has also begun addressing the operations and maintenance (O&M) service gap for the company's inverters deployed in Europe.
Peter Deege, former general manager for Satcon in Europe, the Middle East and Africa, says his work in his current role as chief commercial officer at Photon Energy Group involves reaching out to Satcon's existing customers and offering repair services.
The company is now home to least three other former Satcon employees and a Satcon-trained engineer hired by Deege. 'The business model is very simple: Hire the best-trained service technicians and have access to spare parts, and you will be able to service a large customer base in need of service,' he says.
Spare-part supply chain access will likely be key for any third-party O&M offerings for Satcon inverters. Failed components cannot simply be replaced with their counterparts from competitors' products, and the PV systems themselves are often designed around a particular inverter model, making unit-for-unit switches impractical, Levi points out.
Deege's team also prioritizes educating Satcon's customers about the risks of neglecting proper maintenance during this post-liquidation time. For example, even a maintenance lapse as seemingly minor as letting debris build up in the inverters' air filters could lead to disastrous consequences.
'If [filters] are not cleaned, maintained and exchanged in time, it results in [exposure] to higher levels of stress,' Deege explains. 'They have to work harder, and as a result, the insulated bipolar gate transistors overheat. If this happens, there is a big chance of the inverters catching fire.'
For Satcon's customers, preventive maintenance programs will be crucial in order to minimize inverter failures, Levi agrees. However, he also foresees a broader opportunity in the inverter O&M market, even when the inevitable inverter manufacturer consolidation wave ends.
Before its financial woes, Satcon itself had already entered a partnership deal with Trylon and other third-party providers as part of a shift to a distributed post-sales inverter service model. The company's goal was to 'develop a service network that had the density and flexibility to get 24-hour response time,' Levi says.
This approach could become more popular in the inverter industry, opening up opportunities for third-party service providers. After all, even if an inverter provider is financially solvent, increasingly rapid inverter repairs may become more commonly expected by uptime-minded system owners.
'PV plant owners know that if an inverter fails, they not only have to battle with repair costs, but every minute their plants do not run at full capacity, they lose money,' Deege notes.
Photo: A damaged inverter in Satcon's fleet. Photo credit: Photon Energy Group