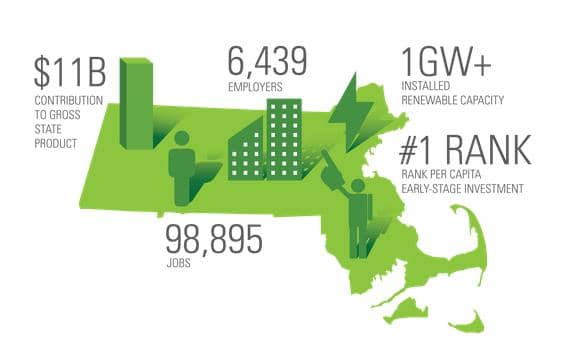 The Massachusetts clean energy sector has grown by double digits for the fourth consecutive year and now employs 98,895 workers at 6,439 employers across the state, according to a new report from the Massachusetts Clean Energy Center (MassCEC).
The report finds that clean energy employment grew by 11.9% between 2014 and 2015 – the largest increase of any year since MassCEC began collecting data in 2010. In total, the number of clean energy jobs in Massachusetts has increased by 64% since 2010.
'With steady job growth over the past five years, the Massachusetts clean energy industry is robust,' says MassCEC Interim CEO Stephen Pike. 'The clean energy sector is fueling small businesses and paying workers high wages across the state from Beverly to Pittsfield.'
The report, prepared for MassCEC by BW Research Partnership, says that clean energy is an $11 billion industry in Massachusetts and represents 2.5% of the gross state product. Clean energy jobs represent 3.3% of the overall workforce in the state, the report adds, with three-quarters of workers earning more than $50,000 per year.
The clean energy industry is employing residents of every county in Massachusetts and has grown over the past year in each of the state's regions, with the largest growth coming in northeastern Massachusetts (16.8%) and central Massachusetts (13.6%).
MassCEC says that as clean energy jobs have grown, so, too, has the installation of clean energy technologies across the state. In July, Massachusetts passed 1 GW of installed renewable energy capacity – enough to power more than 152,000 average Massachusetts homes annually.
The full 2015 Massachusetts Clean Energy Industry Report can be found here.