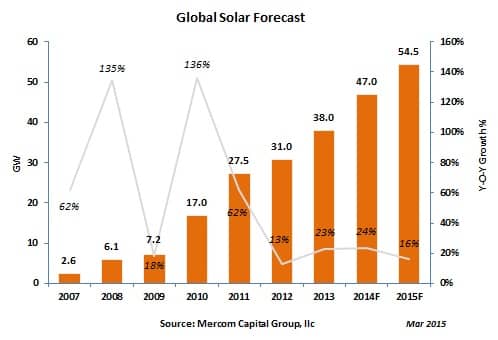 The global solar energy sector is set to install 54.5 GW of new solar capacity in 2015, says a new report from Mercom Capital Group.
Although the retrenchment and downward revisions were evident in many key markets last year, much of this can be seen in the light of organizational issues that attend a ramp-up in capacity. Raj Prabhu, CEO and co-founder of Mercom Capital, says the fundamentals of many key solar markets in the world are quite strong.
'Last year, China didn't meet its goals, and it has revised its initial estimates by a large margin – almost 2 GW,' Prabhu says. 'On the one hand, it makes us wonder what the data quality is like. On the other, it suggests that Chinese authorities are not fudging numbers. They are going back and being realistic.'
Prabhu points out that the fundamentals of China's solar market are more important than administrators struggling to get their numbers straight. In addition, efforts to emphasize distributed photovoltaic power – which, in China, is defined as 20 MW and smaller – so as to avoid having to invest significantly in new transmission infrastructure may have caused confusion among provincial authorities tasked with making the distributed projects happen. Although the central government produced a set of guidelines, Prabhu says, these came out too late in the year to be much good.
This year, China has a goal of deploying 18 GW of new solar capacity. That's a lot. Especially considering that last year's deployment estimates have been revised downward to about 10.6 GW.
'They could get up there, but 18 GW still seems pretty aggressive,' Prabhu says. 'At the same time, I think that right now, everything is in place. Policies are in place. All of the provinces understand what they are supposed to do.'
One of the reasons the long-term prospects for solar in China appear so favorable is that solar seems to fit so naturally into the country's plans to handle its environmental and pollution problems. While solar deployment in China may have started as a way to support domestic PV manufacturing in the face of a global collapse in prices, problems with air quality and the environmental impact of coal-fueled power generation arose essentially at the same time.
'China, then, ends up doing solar for the right reasons,' Prabhu says. 'People are unhappy with air quality. There are protests. They have a basic problem, and solar and wind are going to be the solutions.'
By comparison, the environmental argument in the U.S. is more challenging because visible air quality is much less of an issue. Other environmental reasons for replacing fossil fuels with renewable energy – namely, carbon emissions – are a harder sell. Nevertheless, regulatory requirements such as the U.S. Environmental Protection Agency's Mercury and Air Toxics Standards (MATS), which takes effect this year, will have a definite effect on solar deployment, Prabhu says.
According to Mercom's report, the U.S. Energy Information Administration (EIA) is expecting at least 13 GW of coal-fired generation to retire in 2015. MATS mandates stricter emissions standards on coal power plants. Many older and smaller plants will not be cost-effective to retrofit with the appropriate technologies. The EIA says nearly 60% of new generation this year is expected to come from wind and solar.
Mandates and regulations will continue to be important in the U.S. solar market, Prabhu says, particularly with the federal investment tax credit likely to drop from 30% to 10% at the end of 2016. However, equally important are the financing innovations and willingness of capital to invest in solar projects through vehicles such as funds and yieldcos.
'We watch the financial side very closely,' Prabhu says, adding that Mercom also produces quarterly reports on financing activity in the renewable energy market. 'Unlike some strong solar markets like China and Japan, the U.S. does not really have a national goal for deploying solar power. In the U.S., the cost of finance has always been a big part of the success. The U.S. has been at the forefront of the financing side.'
Some of the difficulties in certain key solar markets, such as Japan and Germany, have stemmed from too generous incentives that have ended up making solar too expensive. As these incentives are revisited and new means of financing are developed, Prabhu expects growth in these markets to get back on track.
For more information on Mercom Capital's Solar Market Intelligence Report, click here.