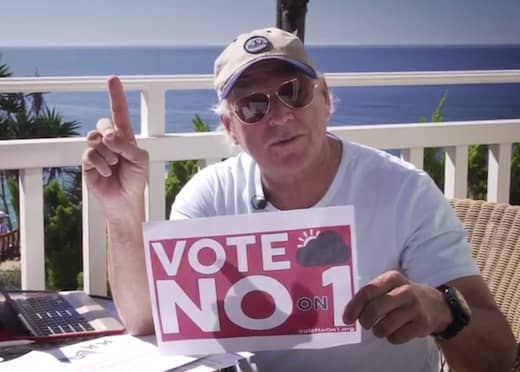 Shortly after the polls closed in Florida on election night, local and national solar advocates alike celebrated a victory, as Sunshine State voters did not pass the highly controversial and utility-backed ballot measure known as Amendment 1.
The group that proposed the amendment, Consumers for Smart Solar, said the ballot measure would allow Florida consumers to own and lease their own solar installations and would protect consumers from "unfair subsidies." However, solar advocates pointed out that Florida homeowners already have the right to own and lease solar equipment, and the solar groups argued that the amendment's language was purposely deceitful to appear pro-solar. Further complicating matters, leaked audio of an executive from a Florida think tank suggested amendment supporters were, indeed, trying to mislead voters.
Meanwhile, solar advocates charged that by including the undefined term "subsidize" in the state constitution, Amendment 1 would have paved the way for Florida utilities to implement new fees on solar customers and change solar-friendly policies, especially net energy metering.
According to figures from the Associated Press, Amendment 1 garnered 51% support and 49% opposition among Florida voters; proposed Florida constitutional amendments need 60% support to actually pass.
The policy win concludes a long campaign by solar advocates, and Floridians for Solar Choice (FSC), which spearheaded the opposition to Amendment 1, called the fight "a true David and Goliath battle." The state's utility companies backed Consumers for Smart Solar and invested millions of dollars in Amendment 1.
PSC joined many local solar supporters, including the Florida Solar Energy Industries Association (FlaSEIA), in trying to educate the public that the measure was misleading. In a last-ditch effort, PSC and FlaSEIA also filed legal actions requesting that the Florida Supreme Court remove Amendment 1 from the November ballot, but the court rejectedthat request on Friday. The fate of the state's solar industry was ultimately up to the Florida voters, and it appears solar advocates successfully got their message out in time.
In a press release, Tory Perfetti, chairman of FSC and director of Conservatives for Energy Freedom, says, "[A]s a coalition representing every part of Florida's political spectrum, we defeated one of the most egregious and underhanded attempts at voter manipulation in this state's history."
Patrick Altier, president of FlaSEIA, adds, "Floridians want more rooftop solar and want the monopoly utilities to end their attacks on clean energy, small business and freedom of energy choice."
Notably, national heavyweights, such as the Solar Energy Industries Association (SEIA), Vote Solar and the Sierra Club, also joined the campaign against Amendment 1.
In a statement, Tom Kimbis, interim president of SEIA, says the death of Amendment 1 is "worthy of recognition on a national scale."
"The resounding rejection of Amendment 1 should send a message across not just Florida, but all states, not to curtail solar choice," he says.
Scott Thomasson, Vote Solar's director of new markets, comments in a statement, "Solar is tremendously popular across state and party lines, and [the] rejection of Florida's anti-solar ballot measure is a reminder of that. Florida voters were armed with the truth behind Amendment 1, and for the second time this year, they cast their ballots for solar progress, customer choice and local jobs."
In August, Florida solar advocates also helped lead a campaign to get a separate ballot measure, Amendment 4, passed during the primary election. Unlike Amendment 1, that measure was considered truly pro-solar and passed with an overwhelming 73% support vote.
Photo courtesy of Floridians for Solar Choice: In a recent YouTube video, iconic singer/songwriter Jimmy Buffett urged Florida voters to vote against Amendment 1.