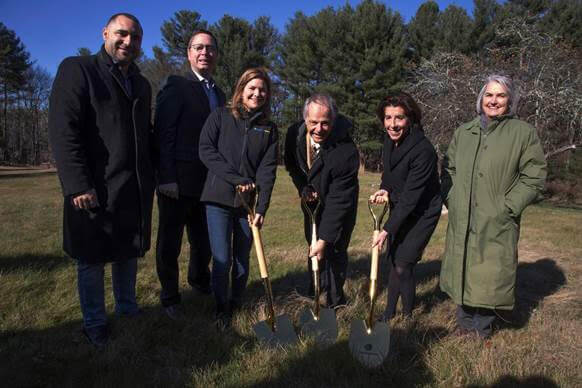 TurningPoint Energy and Nautilus Solar Energy have broken ground on the King community solar project in North Smithfield, R.I. The project, originally developed by TurningPoint Energy and now owned by Nautilus, is being constructed by DEPCOM Power as part of the State of Rhode Island's Community Net Metering Pilot Program.
The project includes two solar arrays totaling 12.44 MW AC of community solar capacity and is expected to be operational in 2020.
The King community solar project abuts the Landfill Resource and Recovery Superfund site that is currently undergoing a long-term remedial response under the oversight of the Environmental Protection Agency. TurningPoint Energy and Nautilus have coordinated closely with Rhode Island Department of Environmental Management and EPA representatives to ensure that the project design has considered any potential future remediation which may be required. The project will incorporate environmental measures including a pollinator-friendly seed mix around and underneath the array.
"Projects like this, which simultaneously clean up our land and make our economy more green, are the future of our state," says Governor Gina M. Raimondo. "I'm thrilled that once this array is complete, more than 3,000 Rhode Island households will have the option to use clean energy and save money."
This is TurningPoint Energy's and Nautilus Solar's second Rhode Island community solar project to break ground as part of the Community Net Metering Solar Pilot Program, created in 2016. The Hopkins Hill community solar project broke ground earlier this year.
Nautilus is the owner of the project and responsible for managing the project, overseeing construction, and maintaining its long-term performance.
PHOTO: Courtesy of Scott Lapham Photography. Rhode Island Governor Gina Raimondo (second from right) joined State Representative Carlos Tobon, Jared Schoch (president of Turning Point Energy), Laura Stern (co-CEO of Nautilus Solar Energy), Gary Ezovski (town administrator of North Smithfield) and Carol Grant (commissioner, Rhode Island Office of Energy Resources) for a ground-breaking ceremony at the King community solar project.