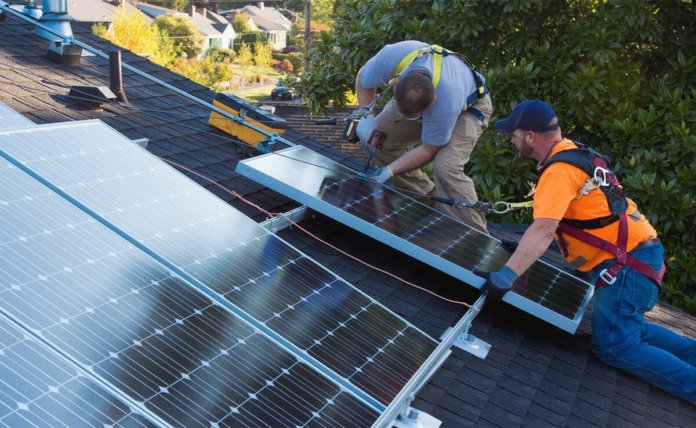 On Thursday, Gov. Andrew M. Cuomo, D-N.Y.,announced that 850 solar projects have been installed or are in development in communities across New York through the second round of locally organized "Solarize" campaigns. Launched by the governor in December 2014, New York's Solarize program is considered an important component in supporting the state's 50% by 2030 clean energy standard, and it is now entering a third round of campaigns around New York.
"New York continues to see unprecedented growth in the solar energy industry across the state, reducing greenhouse gas emissions, increasing jobs, and driving economic growth," said Cuomo. "By helping residents and businesses install solar energy panels, we are reducing costs for consumers and fueling the clean energy economy in New York for years to come."
The announcement was made at an event in Brownsville, Brooklyn, where more than 200 homes have been outfitted with solar panels as part of the Solarize Brownsville campaign. Solarize Brownsville brought together community partners, local residents, and the selected solar installer to successfully demonstrate that solar power can make an impact in low- to moderate-income communities.
"Level Solar is proud to have been selected as the preferred Solarize installer for Brownsville, and we are excited to celebrate New York State's most successful Solarize program to date," said Malcolm Bliss, community programs director of Level Solar. "Through Level Solar's program, over 200 Brownsville and Ocean Hill residents will transition to lower-cost, clean solar energy with no upfront cost. Residents will save hundreds of thousands of dollars on their electricity, and at the same time, dramatically reduce carbon emissions. As part of Level Solar's continued commitment to the community, Level Solar has created over 30 clean energy jobs in Brooklyn and opened a new operations facility to support further solar installations."
Building on this momentum Thursday, the New York Energy Research and Development Authority (NYSERDA) and the Center for Economic Growth also launched the first state-supported Solarize campaign aimed at helping manufacturers install clean-energy producing solar systems. The campaign will bring together potential solar customers in the Capital Region to receive competitive pricing through joint purchasing arrangements.
The new Solarize campaign for manufacturers was announced during a ribbon-cutting at Dimension Fabricators in Glenville, where a 942 kW installation will provide energy equivalent to that needed to power 150 homes annually.
"Adopting solar energy is a smart way for large manufacturers to lower their energy costs and their carbon footprint at the same time," said Alicia Barton, president and CEO of NYSERDA. "By expanding the Solarize campaign to the manufacturing sector participating companies will drive even more competitive pricing while helping to advance Governor Cuomo's nation-leading commitment to adoption of renewable energy across New York."
In the first two rounds of the state's Solarize program, in 2015 and 2016, NYSERDA provided $700,000 in technical and marketing support. Projects in rounds one and two total 13.46 MW of installed solar and will save participants a total of approximately $2.9 million on upfront purchase costs, for an average savings of $1,743 per installation.
Solarize campaigns bring together groups of potential solar customers, including low- to moderate-income participants, through widespread outreach and education and help customers choose solar companies that offer competitive, transparent pricing. Campaigns are managed by partnerships that include community officials, elected officials, municipalities and businesses. Communities engaged in Solarize campaigns are able to simplify the procurement and installation of solar panels and obtain discounts through aggregated purchases.
The campaigns generally run between six and nine months, including planning and outreach. By educating the local community, streamlining marketing efforts and aggregating customers, Solarize campaigns help make solar a more accessible and affordable energy option for homeowners and businesses.
Now entering a third round, New York's Solarize campaigns are one facet of a broad range of efforts under Cuomo's $1 billion NY-Sun program – part of his Reforming the Energy Vision strategy – to advance the scale-up of solar and move New York closer to having a sustainable, self-sufficient solar industry. State-supported solar power in New York increased nearly 800% from December 2011 to December 2016.
According to Richard L. Kauffman, chairman of energy and finance for New York State, "The Solarize campaigns are helping communities transition to more sustainable energy practices, reducing greenhouse gas emissions and lowering costs. Under Governor Cuomo's comprehensive NY-Sun initiative, New York is driving affordable, clean energy solutions to create healthier, stronger neighborhoods across the state."
Photo courtesy of the New York governor's office