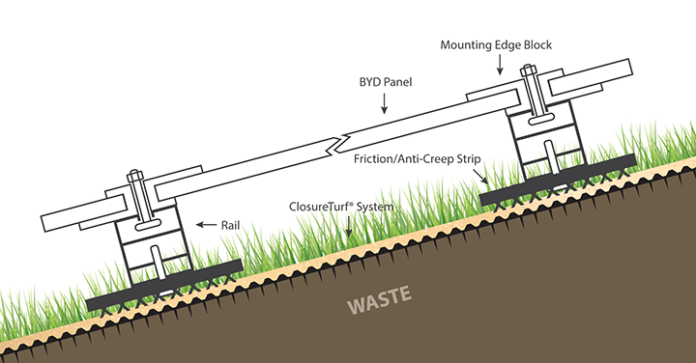 Watershed Geo and ISM Solar Development have formed Watershed Solar Development to provide landfill and brownfield solar energy solutions integrated with ClosureTurf, a patented engineered geosynthetic turf closure system owned by Watershed Geo.
Watershed Solar Development is licensed and authorized nationwide by Watershed Geosynthetics to develop and install solar energy systems on ClosureTurf. Watershed Solar Development is also licensed and authorized nationwide by Watershed Solar to market and install PowerCap. PowerCap is a patent-pending solar technology, marketed and supported by Watershed Geosynthetics, that optimizes solar design and maximizes project economics.
PowerCap provides a geotechnically engineered and tested, highly stabilized solar energy system featuring a direct attachment method to ClosureTurf with no penetrations. It enables installation on landfill slopes up to 2:1 and includes a 40-year performance warranty.
Watershed Solar Development has a pipeline of MSW, industrial landfill and brownfield projects approaching 125 MW in total. The company's first project – 3.5 MW community solar project – began development in late 2019 at a 22-acre landfill in Cranston, R.I.
"After many years of geotechnical evaluation, wind tunnel testing, and long-term field demonstrations performed in extreme weather conditions, we are thrilled with this partnership that pulls together industry expertise to execute on this unprecedented way to convert land from financial liabilities to long-term reliable assets," says Mike Ayers, CEO of Watershed Geo.
"We have seen firsthand how ClosureTurf provides economic and environmental value to customers and communities. We aim to build on that by delivering addivtional revenue, savings and clean energy. Our approach is to leverage ClosureTurf's unique characteristics to improve the closure and solar bottom line for the benefit of all stakeholders," adds Greg Lucini, CEO of ISM Solar Development.