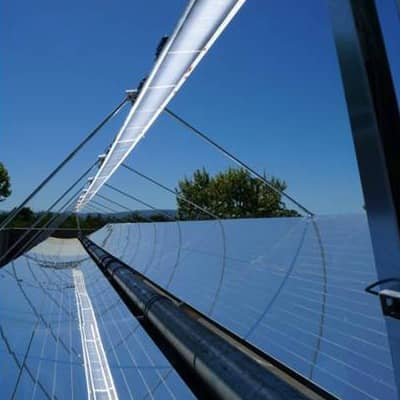 Gilad Almogy, CEO of California-based Cogenra Solar, is not one to let heat go to waste. His primary goal is to produce electricity from silicon inexpensively as possible. But the heat is there for free, he says. Put it to work.
The company's Cogenra T14 uses a system of mirrors mounted on single-axis trackers to focus sunlight on a receiver strip supporting standard 6-inch PV cells. Rather than using more expensive curved mirrors, the company uses flat mirrors sections.
Water circulates in a closed loop through the receiver modules, carrying heat away from the PV. Almogy says early Cogenra installations included 100 kW systems for wineries and milk producers, where the heat is used for pasteurization. Moreover, systems are used for producing heat for large-occupancy buildings, such as dormitories, hospitals and hotels.
Future markets may include corporate campuses, military bases and mining operations. District heating, wherein multiple urban buildings are served by a common heating system, is a promising area.
"There's a limit to how much heat we can sustain with water as a coolant," Almogy says." The question is do we deal with lower concentration and less heat, or bite the bullet and use a fluid."
The answer to this and other questions will be determined by experience gained from the early installations.
Cogeneration is not the only benefit of the CSP approach. Almogy says his company's system is capable of producing electricity at $0.50/W. The potential prompted Washington Gas Energy Systems to build own and operate a 1 MW solar energy project in Arizona using the Cogenra array, contracting with Tucson Electric Power to take the output. In this case, the heat is indeed waste – Washington Gas Energy has no planned uses for it at present. The project is expected to be complete in April of this year.
Heat is certainly one of the intended products of an experimental cogeneration system employing concentrating solar power (CSP) technology that is undergoing testing in France. Last November, the Microsol project pilot plant was inaugurated at a French Atomic Energy Commission (CEA) site in Cadarache, France.
The Micosol system consists of parabolic troughs fitted on a rotating platform equipped with dual-axis trackers. Tracker manufacturer Exosun designed and built the solar concentrators and receptor for the plant, while its sister company Exoes provided its Shape Solar power generator that uses the Rankine engine principle to convert low-temperature steam – approximately 140 to 180 degrees C – into electricity. Microsol also incorporates a thermal storage system of Exosun's design. Schneider Electric is providing plant management equipment and services.
In addition to the CEA, the program is financed in part by the French Environment and Energy Management Agency. After the Microsol testbed has logged a year of operations at the CEA site, up to five units will be shipped to sites in Africa. Ultimately, the idea is to produce commercial units.
Frederic Conchy, Exosun's president and CEO, says CSP was the appropriate solar technology for the application. One system is capable of producing electricity and providing safe drinking water. Many of the components can be maintained and repaired by local people using available tools.
'Steam is a good vector to produce energy,' Conchy says. 'It's also a good temperature to do all sorts of things.'