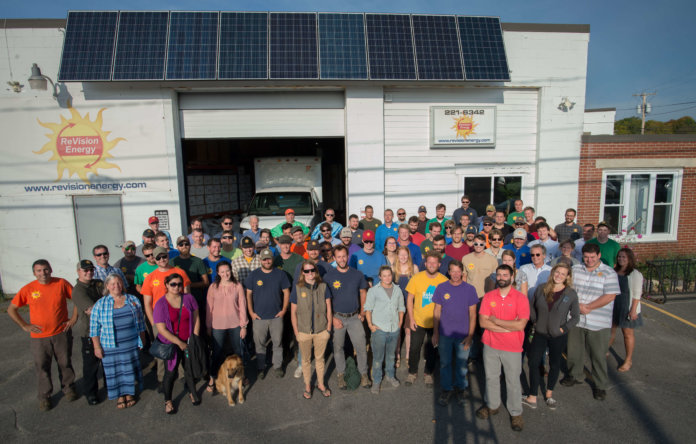 ReVision Energy, a regional company that specializes in the design, installation and service of solar energy systems, recently converted to 100% employee-based ownership. The company says its three co-founders chose the employee stock ownership plan (ESOP) option after a rigorous three-year exploration of various strategies to ensure ReVision Energy's long-term economic and environmental sustainability.
"We are investing the future of our company in the exceptional people who have worked hard all these years to build ReVision Energy into one of the best solar companies in the world," says company co-founder Phil Coupe. "Converting to 100 percent ESOP means that every employee can financially benefit from the success of the business as we continue our mission to transition New England from a fossil-fuel-based economy to a sustainable, renewable-energy-based economy. We believe this is the best future we can create for all our employees and for our commitment to sustainable energy."
In 2015, ReVision Energy became a certified B-Corp, signifying it's operated with a goal of creating maximum positive impact rather than just focusing exclusively on maximizing shareholder returns, according to the company. Other notable B-Corps include Ben & Jerry's Ice Cream, King Arthur Flour and Patagonia, which all share in common a "triple bottom line" business philosophy of People, Planet and Profits.
Since 2003, ReVision Energy has grown from two guys in a garage to more than 200 employees today operating out of five locations in Maine, New Hampshire and Massachusetts. In addition to designing and installing solar electric systems and solar hot water systems, the company says it also covers the complementary technologies of battery storage, electric vehicle charging stations, heat pumps and microgrids.
"Today we have robust, reliable renewable energy technology that is enabling people and businesses to make the transition to 100 percent clean energy, ensuring their long-term energy security and independence. And now we have established the strongest employee ownership model by transitioning to 100% ESOP ownership, ensuring the greatest resilience for our company and positioning ReVision Energy for the future," says Coupe.
According to the ESOP Association, 84% of companies that convert to ESOP report higher levels of employee motivation and productivity, and it has been shown that ESOP companies pay better benefits, have twice the retirement income for employees and pay higher wages than non-ESOP companies.
Photo: ReVision's Portland, Maine, team immediately after the ESOP announcement.