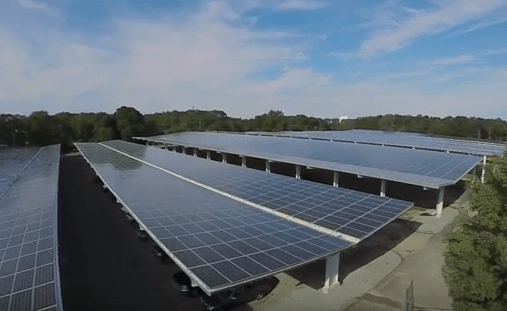 Built in partnership with nonprofit energy-buying consortium PowerOptions and SunEdison Inc., a 3.2 MW solar parking canopy has been installed at Bristol Community College at its Fall River, Mass., campus.
According to SunEdison, the system is the largest solar parking canopy in New England and will generate 34 million kWh of energy each year – enough to cover half of the campus' electricity needs and generate a 20-year savings of more than $1.75 million. The canopy covers 800 parking spaces on five acres of land.
The college signed a power purchase agreement with SunEdison to buy the power from the system for a guaranteed price over the next 20 years. Operations and maintenance will be performed by SunEdison Services.
TerraForm Power Inc., which included the project on its call right projects list, acquired the system from SunEdison. The canopy is the latest project of the PowerOptions Solar Program, launched in 2012, which helps nonprofits, government institutions and municipalities go solar.
'Initiatives like the solar canopy at Bristol Community College leverage opportunities at state facilities and position the state to reduce greenhouse-gas emissions – while protecting the environment and moving toward our administration's solar goal of generating 1,600 MW at homes, businesses, municipalities and state agencies by 2020," says Massachusetts Gov. Charlie Baker.
A video of the project can be found here.
Photo courtesy of Bristol Community College/YouTube