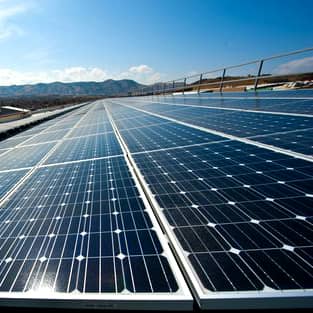 The New Jersey State Assembly has passed a bill that would increase the state's solar energy requirements under its renewable portfolio standard (RPS) program, as well as allow additional facilities to qualify for virtual net metering.
The State Senate passed an earlier version of the bill last month by a vote of 23-8, and a modified version cleared the State Assembly Monday by a vote of 68-4.
Under the bill, utilities would be required to obtain 2.05% of their electricity sales from solar by 2014 – a mandate that would be ramped up on a tiered basis to 4.10% by 2028.
New Jersey's current RPS requires that each utility obtain 22.5% of its power from renewables by 2021, and features a tiered solar carve-out of 306 GWh beginning in 2011 and increasing to 5,316 GWh by 2026.
While the federal Section 1603 program and other incentives were in place, New Jersey actually surpassed its RPS requirements – resulting in reduced demand for solar renewable energy credits (SRECs).
A similar bill to the one passed this week was introduced in 2010, underwent a series of formal revisions and failed to be brought up for a vote when the legislative session ended this past January. The result was an immediate and devastating blow to the SREC market, with prices dipping below $200 – a plunge from the $700 levels once seen.
According to industry experts, the accelerated requirement schedule proposed under the new legislation would be a boon to the New Jersey solar market in both the short and long term.
For one, it would increase the demand for SRECs, as utilities would have to purchase more SRECs to meet their compliance requirements.
'Now that there is more capacity in the immediate future, it will allow for new market development to restart," says Gaurav Naik, co-owner and principal at Old Bridge, N.J.-based solar integrator GeoGenix.
The revitalized SREC market, in turn, could help projects make financial sense in a post-1603 environment.
"We're hoping that it will create an environment for more long-term contracts at SREC price levels that will allow projects to get financed," Naik explains." Today, with high electricity [prices] in New Jersey and the current cost of the technology and systems, our model shows that you need $250 SRECs in a 10-year long-term contract to make financial sense for a 500 kW commercial system.'
The legislation also would make public projects (i.e., solar installations on municipal buildings, schools, etc.) eligible for virtual net metering, which would allow them to use solar credits to pay for the power used by non-connected buildings under their jurisdiction.
The bill now awaits the approval of Gov. Chris Christie, who is expected to sign the legislation into law.

Photo courtesy of the National Renewable Energy Laboratory