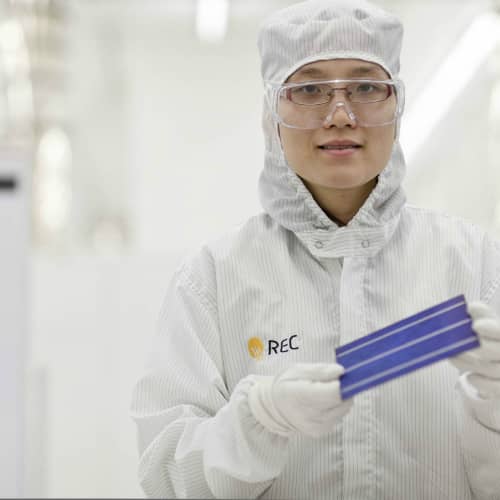 The news that Chinese solar modules will be slammed with heavy tariffs intensified the PV industry's already-fierce debate about international law, pricing practices and relative product quality.
The trade-war discussion has also encompassed a related controversial inter-culture issue: the belief that Chinese factories – including solar fabs – create hazardous working conditions, flout pollution laws and generally act as poor corporate citizens.
However, a China-headquartered firm, Trina Solar, was recently crowned the cleanest PV manufacturer by the Silicon Valley Toxics Coalition (SVTC) in its third annual Solar Scorecard. Trina unseated last year's winner, SolarWorld, as the most environmentally friendly and worker-friendly PV manufacturer.
With a score of 94 (out of a possible 100), Trina barely beat out second-place SunPower (headquartered in the U.S., though it manufactures its products in Malaysia, Mexico and the Philippines), which earned 93 points.
Germany-headquartered SolarWorld – known as the leading public face behind the anti-dumping complaint and countervailing-duty petition that brought about the new tariffs on Chinese manufacturers – came in third place, with a score of 91 points.
Last year, SolarWorld's 91 points were enough for it to be ranked No. 1 in the SVTC's Solar Scorecard. Trina placed second in the 2011 scorecard, with a score of 89. SunPower has made significant gains since 2011, raising its score from 86 points (sixth place) last year to this year's 93 points.
Yingli, which manufactures in China, placed fourth in this year's survey, with a score of 88. Other top 10 manufacturers included REC (87 points), Suntech (86 points), Avancis (79 points), Aleo Solar (77 points), Sovello (77 points), Solon Energy GmbH (75 points) and First Solar (74 points).
Scheuten Solar (66 points), SoloPower (61 points) and Motech (56 points) earned middle-of-the-pack ratings. These companies were followed by Panasonic (28 points), ReneSola (28 points) and Sharp (9 points).
At the bottom of the pack, two China-based manufacturers – JinkoSolar and LDK Solar – received scores of zero. Neither company responded to the SVTC's survey.
Jinko holds the dubious distinction of having experienced perhaps the most public environmental contamination incident within the PV manufacturing industry over the past year.
Last September, Jinko's Haining City, China, factory spilled waste into a nearby brook, raising fluoride levels above accepted levels and setting off violent worker protests. Jinko blamed the contamination on heavy rains and said it completed an environmental safety upgrade at the facility after the incident.
Two non-China-based manufacturers, Hanwha SolarOne (with manufacturing locations in Korea) and Schott (with manufacturing locations in Germany, the U.S. and Czech Republic, as well as in China) fared scarcely better than Jinko and LDK. These two firms – neither of which responded to the SVTC's survey – received scores of 2. China-based Canadian Solar also earned a score of 2.
According to the SVTC, the PV cell and module manufacturing industry as a whole – regardless of factory locations – still needs to make major strides in improving its overall environmental and social-justice profile.
Specifically, manufacturers should aim to reduce their usage of toxic chemicals, develop or strengthen their module recycling programs and take steps to protect their workers up and down the supply chain.
For instance, none of the companies that responded to the SVTC's survey could verify that its supply chain does not contain conflict minerals (as defined by Organization for Economic Co-operation and Development guidelines).
Only four of the manufacturers publicly report their air pollution emissions at their factories. Although all of the companies reported that they conduct life-cycle analysis of their modules, only six have set zero-waste or annual-waste diversion goals designed to keep materials out of landfills.
'We now have a limited window of opportunity to ensure that solar PV does not follow the electronics industry's toxic and unsustainable path,' the SVTC warned in its report.
More information, including extended survey results for several companies, is available here.
Photo: A worker at REC's Singapore facility. The company was ranked No. 5 by the SVTC. Credit: REC.