Connecticut, New York and Massachusetts now outrank California, Arizona and New Mexico in the amount of money each ray of sunlight can generate for homeowners, according to a new analysis of rooftop solar from Geostellar, developers of a marketplace for connecting homeowners with installers of residential solar power systems.
Geostellar says its new Geostellar Solar Index, which it plans to update quarterly, measures and compares the profitability of investments using solar radiation data, electricity rates and financial incentives for residential solar from governments and utilities. Ratings for each state plus Washington, D.C., are expressed as percentages representing the internal rate of return (IRR) – the percentage of an investment in a photovoltaic power system that can be expected annually over a 25-year operating life.
Geostellar's ranking for the third quarter of this year is shown in the following chart: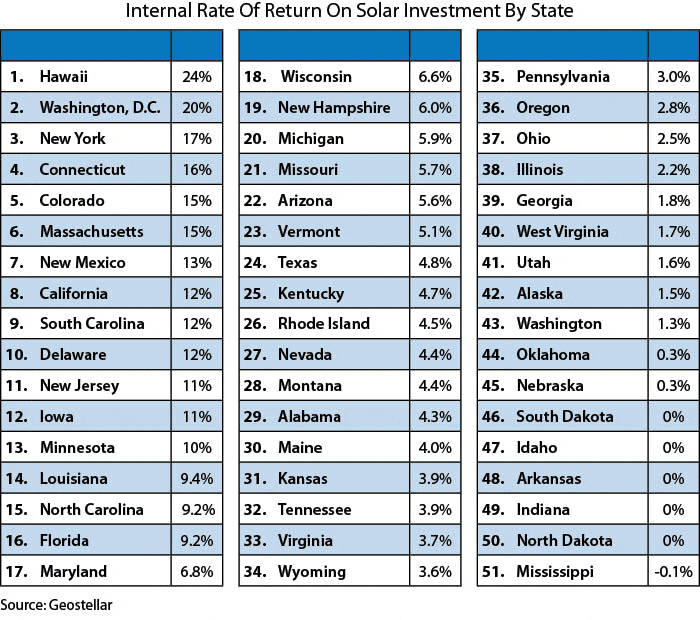 According to Geostellar, California, Arizona and New Jersey – the top three solar states by installed capacity in 2012 as
ranked
by the Solar Energy Industries Association – are not among the top five states in the index. Tax credits and other incentives in New York and Connecticut have helped propel those states toward the top of the Geostellar Solar Index. Only Mississippi residents would pay more for solar energy than they would for the conventional electricity provided by the power grid, according to the index.
Geostellar says the index criteria include analysis of solar intensity on individual rooftops; county-by-county tax credits, rebates, renewable energy credits and other incentives; local utility rates; installed costs of solar and other variables.
'In much of the country, the Geostellar Solar Index shows that homeowners can actually generate more wealth with solar panels than stocks, bonds, CDs or other investments,' says Geostellar founder and CEO David Levine. 'The index's findings show residential solar power is not only viable; it's a wise investment.'
Geostellar says one of the key insights from its index is that local, state and federal tax credits and other incentives are the largest factors in determining the individual profitability of solar for the homeowner. Because incentives change rapidly, the profitability of solar energy across the country can fluctuate, Levine says.
To view the current Geostellar Solar Index, with a comparative breakdown of contributing factors, click here.