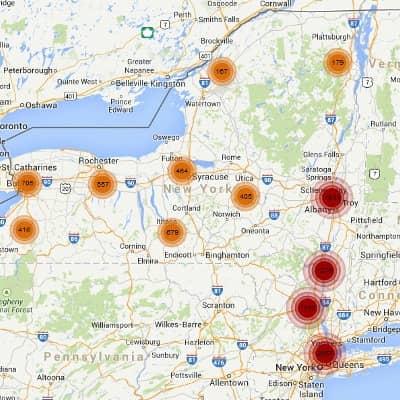 New York Gov. Andrew Cuomo has announced $160 million in new funding to support the state's Reforming the Energy Vision initiative.
The funding is earmarked for competitively bid proposals for projects to be awarded for a term of up to 20 years. In addition to grid-connected solar, wind and other renewable energy proposals, the new solicitation will also consider fuel cell projects for 20-year contracts.
Support for these new grid-based projects will be provided by the New York State Energy Research and Development Authority (NYSERDA) through the main tier of the state's renewable portfolio standard (RPS). The governor's office says NYSERDA's previous nine RPS main tier solicitations for large-scale renewable projects have resulted in approximately 2,036 MW of capacity involving 65 projects.
Another main tier solicitation is expected to be released in 2016.
'The large clean energy projects that are made possible by this RPS investment will have a positive impact on the environment and the economy of New York State,' says John B. Rhodes, NYSERDA's president and CEO.
More information about the solicitation can be found here.