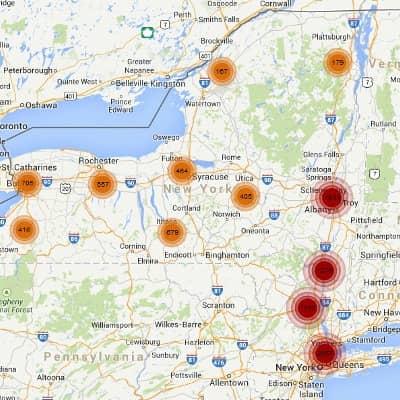 Last month, New York Gov. Andrew Cuomo unveiled a new interpretation of the state's virtual net-metering law that enables multiple off-takers to receive credits from a given project.
The so-called Shared Renewables initiative is pitched as a means of bringing community solar to low-income neighborhoods in support of the Reforming the Energy Vision (REV) effort to promote localized energy generation and distribution.
'The Shared Renewables initiative will help people and communities across the state save money on local clean energy projects,' Cuomo says, in a statement. 'This program is about protecting the environment and ensuring that all New Yorkers, regardless of their ZIP code or income, have the opportunity to access clean and affordable power.'
Peter Constantakes, a spokesperson for the New York State Energy Research and Development Authority (NYSERDA), says the Shared Renewables initiative – also referred to as community distributed generation – enables customers to join together to share in the benefits of local solar, wind and other renewable energy projects. Each individual member's production would appear as a credit on his monthly utility bill.
Dan Berwick, vice president of business development for Borrego Solar, says the initiative represents a clarification of New York's virtual net-metering law that has the potential greatly increase demand for solar power in all income brackets.
'We're thrilled about the community net-metering order,' Berwick says, adding that the vast majority of residential customers can't install solar on their house because they rent, have bad credit or their roofs are not appropriate. 'We think it's a great policy. This is really a way to expand access to solar.'
Prior to the order, Berwick explains, the virtual net-metering law in New York, as interpreted by the public service commission, did not allow multiple off-takers; the off-taker and the customer had to be the same entity. What the community net-metering rule does is enable a project owner to be an organizing sponsor of a community solar project. The organizing sponsor, whose name is on the host account, can then distribute credits to eligible community net-metering customers.
'It's the only way that you can have a remote net-metering system that has multiple off-takers,' he says.
According to NYSERDA, the first phase of Shared Renewables will focus on promoting low-income customer participation and installations in areas of the power grid that can benefit most from local power production. From Oct. 19Â through April 30, 2016, projects will be limited to areas where they can provide the greatest benefits to the power grid or areas where at least 20% of the participants are low- and moderate-income customers. Beginning May 1, 2016, a second phase will make shared renewable projects available throughout entire utility service territories.
Phil Van Horne, president and CEO of Syracuse, N.Y.-based renewable energy provider BlueRock Energy, says the Shared Renewables program may be thoughtful public policy, but he is not sure how it will necessarily translate into more solar or wind power projects.
'It all depends on what the final picture looks like,' Van Horne says. 'Right now, the emphasis is on low-income people and apartment residents being able to opt into solar projects. If you want to give bill credit to low-income customers as a public policy, I have no problem with that. You don't need to build a solar plant to move those credits to low-income customers. Just give them the credits. Let the market decide how and where to build solar plants, because it will be more efficient that way in the long run.'
Van Horne points out that there are already numerous federal and state incentives that promote solar development in New York, such as the tiered block program. Moreover, there is no shortage of developers, contractors or customers willing to go solar. 'It's not like there is nobody building solar plants right now,' he says.
The problem, then, is how the state plans to induce low-income residents to get together and attract an organizing sponsor to develop the generating plant.
'In the coming months, NYSERDA will share details about how it will allocate as much as $13 million this year to support added incentives, financing assistance and consumer protection for low- to moderate-income residents,' Constantakes says. 'Additional components of the proposal are expected to be rolled out beginning this fall.'
Borrego's Berwick says the most important practical effect of the Shared Renewables initiative is that it removes a barrier to community solar development in New York. 'As a solar developer, builder and operator, this creates a lot more demand for what we do,' he says. 'It's a great policy for our business and great for the expansion of solar.'