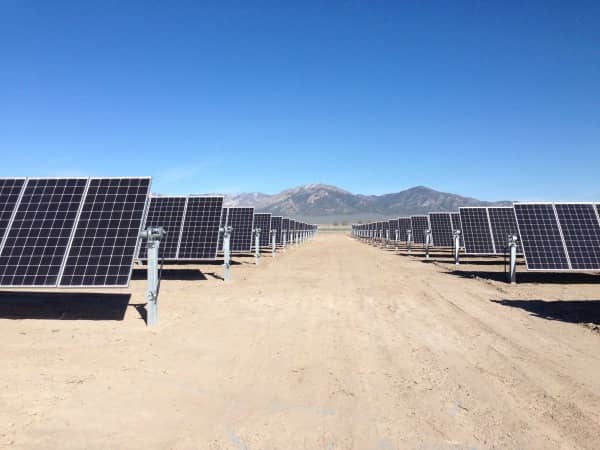 Fremont, Calif.-based NEXTracker has entered the solar market in Mexico with a shipment of single-axis trackers to Buenavista Renewables (BVR), a Houston-based developer with offices in Mexico City.
BVR is developing its 16 MW Los Santos power plant in Chihuahua state that will deliver electricity to a large cable manufacturer and a private educational network via long-term power supply agreements executed under Mexico's self-supply law.
Dan Shugar, CEO of NEXTracker, says the Lost Santos project demonstrates many of the opportunities in Mexico for solar in general and for trackers in particular.
'What's really interesting is that we are seeing a prevalence of trackers in those markets where solar has to stand on its own feet with few, if any, incentives,' he says. 'Mexico is just a fantastic place for solar and an even better place for trackers.'
From a geographic standpoint, the arid regions of northern and central Mexico – of which Chihuahua may be considered typical – have high solar irradiance as well as favorable latitudes. Shugar says the the incremental cost to a project for adding trackers is approximately 5%. However, the incremental energy production with trackers is 20% to 30%, with the latter figure reflecting some sites in the high deserts of the region.
'Just generally speaking, the sunnier the place, the better the incremental gain for trackers,' he says. 'That benefit is compounded when you are in a lower latitude.'
The lower latitude provides better yields during winter months because the sun remains above the horizon longer than in northern climes. At the same time, Shugar says, the geology of desert regions tend to feature a high abledo, which is the light that reflects off the ground. The sun angle is low enough that tracking solar panels can capture a significant amount of this light.
'One of the differentiators in a desert environment is that we have a higher rotation angle than other systems – plus or minus 60 degrees rather than the typical plus or minus 45 degrees,' Shugar says. 'That significantly better rotation angle gives you better energy production during the valuable shoulders of the day – early morning and late afternoon.'
Despite the geographic benefits, Mexico is still an emerging market for solar – if a particularly promising one – and as such requires local experience to successfully develop projects. Shugar says BVRÂ has a tremendous amount of international expertise and really understands the market in Mexico and how to structure projects there. 'For us, they really were the ideal customer,' he says.