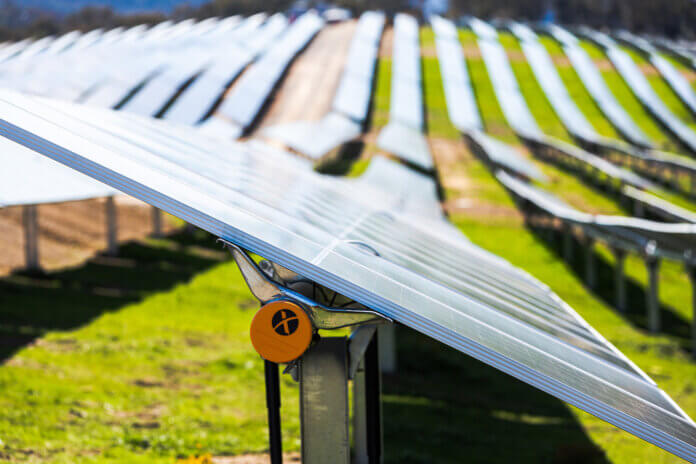 Solar solutions provider Nextracker is set to launch a suite of next-generation innovations. Each of these releases builds upon proven technology that has been delivered to utility-scale solar power plants for three or more years. The product suite combines hardware, smart software and process innovations to deal with hail, undulating terrain and rapidly changing atmospheric conditions.
Hail Pro leverages the inherent features of Nextracker's flagship NX Horizon smart solar tracking system. This advanced design will allow NX Horizon to stow up to four times faster than standard trackers – time that is crucial when hailstorms hit – and stow with no operator intervention in the event of a grid outage. The new Hail Pro solution adds automatic stowing using weather service information, hail readiness services and, where desired, Hail Pro-75 for stowing at up to 75 degrees for locations subject to extreme hail.
NX Horizon XTR-1.5, Nextracker's latest innovation for hilly sites, doubles the capability of the popular NX Horizon XTR terrain-following tracker, which has been in use on utility-scale projects since 2019. It reduces and even eliminates earthwork on extreme terrain sites, without complex joints or additional components.
XTR can save steel with shorter piles and thousands of cubic yards of cut and fill; with the benefits of accelerating construction schedules, minimizing environmental impact and reducing project risk. Minimizing disturbance also prevents long-term soil erosion and preserves habitats, an important factor when it comes to ease of permitting for new projects.
Zonal Diffuse, a new tracking function that enhances energy generation during rapidly changing irradiance conditions, will expand TrueCapture – Nextracker's yield optimization and control software. This new technology includes additional high spatial resolution sensing and new control algorithms, adjusting trackers to variations in cloud cover across the entire power plant. Plants equipped with Zonal Diffuse can "chase clouds" for additional gains, without compromising tracking performance during clear sky conditions.
"Our product development priorities are informed by listening to customers and innovating to create value for them," says Dan Shugar, Nextracker founder and CEO. "These technologies deliver improved solar project profitability and expand the geographic areas where solar is cost-effective, furthering our vision of a world powered by renewables."