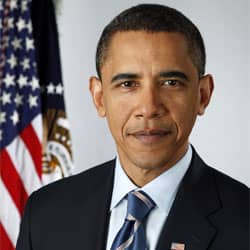 In his State of the Union address, President Barack Obama praised the solar sector's successes in creating jobs for the U.S., called for additional investment in renewable energy and introduced an ambitious – and perhaps controversial – national clean energy standard for 2035.
As an example of the reinvention of the country's workforce following the decline of traditional manufacturing jobs, Obama spotlighted invited guests Gary and Robert Allen, whose Rochester Hills, Mich.-based company, LUMA Resources, manufactures solar shingles.
'Already, we're seeing the promise of renewable energy,' Obama said, according to a transcript posted by the White House. 'Robert and Gary Allen are brothers who run a small Michigan roofing company. After September 11th, they volunteered their best roofers to help repair the Pentagon.
'But half of their factory went unused, and the recession hit them hard,' he continued. 'Today, with the help of a government loan, that empty space is being used to manufacture solar shingles that are being sold all across the country.'
'Congress should take notice of success stories like LUMA Resources when considering how to create new jobs and keep America competitive in the 21st century,' said Rhone Resch, president and CEO of the Solar Energy Industries Association, in a statement.
The story of LUMA Resources can – and should – be duplicated with the help of supportive pro-renewables policy, agreed Howard A. Learner, executive director of the Environmental Law & Policy Center. Learner believes the foundation for this economic growth is already in place, particularly in the Midwest.
'Hundreds of old-line Rust Belt manufacturers are retooling to produce equipment for the growing clean energy economy, as shown by the Environmental Law & Policy Center's recent reports,' he said in a statement. 'Federal investments in renewable energy are spurring job growth and revitalizing the Midwest manufacturing sector.'
Obama's State of the Union address also called for the aggressive deployment of renewable energy in the U.S., as well as the elimination of tax subsidies to fossil-fuel producers. Obama said he would cut approximately $4 billion per year of these subsidies.
'Clean energy breakthroughs will only translate into clean energy jobs if businesses know there will be a market for what they're selling,' Obama added. 'So tonight, I challenge you to join me in setting a new goal: By 2035, 80 percent of America's electricity will come from clean energy sources.'
The inclusion of such energy sources as 'clean coal' and natural gas in this energy mandate may be met with criticism by the solar sector, but Obama stressed that the 'all-of-the-above' approach to energy is the most realistic strategy for taking major steps toward energy independence.
'Some folks want wind and solar,' Obama said. 'Others want nuclear, clean coal and natural gas. To meet this goal, we will need them all – and I urge Democrats and Republicans to work together to make it happen.'