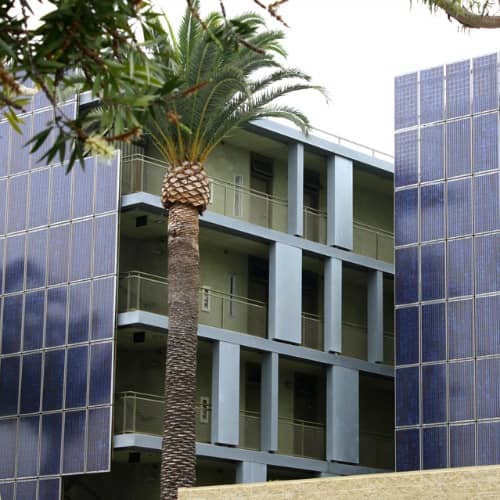 Property-assessed clean energy (PACE) finance is alive and well in California, where a brand-new PACE program has debuted with the initial participation of an unprecedented 14 counties and 126 cities.
The CaliforniaFIRST program, administered by Oakland, Calif.-based Renewable Funding, will allow owners of commercial properties, including multifamily units, to finance the installation of solar projects and other building-energy improvements through their property tax bills.
'This is the first statewide commercial PACE program out there,' Rosalind Jackson, director of communications and development at Vote Solar, tells Solar Industry. Prior to CaliforniaFIRST, Los Angeles' single-jurisdiction commercial PACE offering had been the largest.
Thanks to recent legislation, solar leases and power purchase agreements are now eligible for PACE financing, according to the CaliforniaFIRST website. Given the explosive popularity of third-party ownership for PV installations, particularly in California, this change comes at an opportune time. PACE can also be used in conjunction with federal investment tax credit.
In all, Renewable Funding has been authorized to issue up to $14 billion in bonds through CaliforniaFIRST, the company says on its website.
How much of that total might go to solar installations? PACE has historically allowed for a range of renewable energy and energy efficiency improvements, and CaliforniaFIRST also permits water-conservation projects to be financed.
'We see a significant amount of demand for both energy efficiency and solar project financing through PACE,' Jackson says. 'The existing program with the most data right now is Sonoma County. There, the numbers break down to about half efficiency, half solar.
'That's, of course, extrapolating from a fairly small sample size considering the overall PACE market opportunity,' she adds.
Headwinds
CaliforniaFIRST offers a burst of optimism for a still-troubled solar finance option. Since its introduction in Berkeley, Calif., by Renewable Funding in 2008, PACE has proven to be both a boon and a source of frustration for the solar sector.
After making inroads in several U.S. cities and states, residential PACE programs were suddenly choked off in July 2010 by the federal government. The Federal Housing Finance Agency's (FHFA) stated that PACE loans pose a threat to mortgages held by government-sponsored enterprises Fannie Mae and Freddie Mac and the U.S.' 12 Federal Home Loan Banks.
As residential PACE programs went dark, an ongoing regulatory battle began. Most recently, in June, the FHFA released a notice of proposed rulemaking (NOPR) open to comments from the public.
Vote Solar and other solar advocacy groups have weighed in with official comments on the pro-PACE side. 'Essentially we stated that the FHFA is making claims about PACE risk that are unsubstantiated, and the fact pattern shows the opposite – namely, that people are put in a better financial position as a result of participation in PACE programs,' Jackson explains.
Based on its interpretation of the mortgage-related 'risks' posed by PACE, the FHFA has proposed three options for residential PACE's future, she says, describing the first two options as 'non-starters' for PACE supporters.
The third, most palatable option calls for letting PACE move forward with stringent underwriting standards. This plan would offer the 'protections needed to make PACE a low-risk proposition' while still preserving the program's benefits for the solar sector, property owners and communities at large, Jackson says.
As the California Solar Initiative enters its last stages and utilities' rebates dwindle, a PACE revival – including a return of residential PACE – would help keep solar installations growing at a healthy rate.
'We're nearly in a post-rebate world in California,' Jackson notes. 'Financing options – along with 'rules of the road' policies, like net-metering and interconnection – are going to be increasingly important.'
Photo: PV at Colorado Court, a multifamily housing property in Santa Monica, Calif. Credit: Limelight Power, via Flickr CC license.