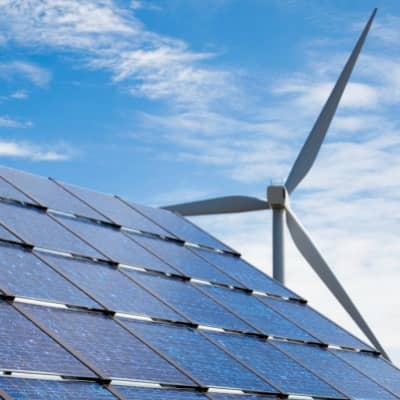 Spurred on by opportunity and the desire to maximize existing generating assets, several wind developers are now beginning to look at adding solar generation on existing wind sites.
Although combining wind and solar is not new – Oregon-based Element Power, for example, has been seeking ways to combine wind and solar on the same project site for the past five years – many developers are now looking at adding solar generation to monetize the investment tax credit, which, for solar, expires Dec. 31, 2016. The production tax credit for wind expired at the end of last year.
'Having the federal tax credit still available certainly makes solar generation interesting,' says John Lamontagne, spokesperson at Boston-based developer First Wind, one of a handful of companies that have ventured into solar generation after starting out in wind development.
Federal tax credits aside, there are many benefits of co-locating wind and solar generation, explains wind industry veteran Robert C. Rugh.
'[Wind and solar] can conceivably work together to provide a more levelized joint output than either could do standing alone,' Rugh says. 'This effect serves to firm the power supply to the grid, and for those projects where the economics work, this is a reasonable approach to pursue, to avoid supply-demand gaps which would necessitate alternate actions to firm the wind supply.'
Mark Tholke, EDF Renewable Energy's vice president of the western U.S. region, agrees. 'When the generation profile is such that solar generates during the day and wind generates during the night and parts of winter, it enables maximum use of available transmission,' he says.
Tholke ought to know. EDF's 140 MW Pacific Wind project, located in Kern County, Calif., is co-located with the 143 MW Catalina Solar project. It is among the largest co-located wind and solar plants in North America.
'The most important characteristic is determining whether there is a sufficient wind resource and solar resource at a particular location,' Tholke says. For example, while solar insolation is strong in the Southwest – unless there is sufficient wind resource in the same location – a hybrid project does not make sense. 'The best locations for a wind/solar hybrid is when the generation profile differs between each.'
Because wind and solar projects must obtain approvals from the same agencies and jurisdictions, wind developers are already well versed in the basic requirements of renewable energy projects, Tholke says.
In cases when a developer starts out to build wind and solar on the same site, Tholke advises to permit both projects together. He says it is typically less costly and quicker.
Attitudes toward renewable energy in the community at large can also determine if a developer should co-locate, explains Wren Wescoatt, First Wind's director of business development in Hawaii, where the company is in the early stages of developing a utility-scale solar project on the same site as its 69 MW Kawailoa wind farm, located in Oahu.
Hawaii is a central location in the company's efforts to co-locate wind and solar projects. In fact, First Wind's new solar division, First Wind Solar Group, was established to explore solar energy opportunities near the company's three wind farms in Hawaii and other company wind sites.
Hawaii is attractive for several reasons, Wescoatt notes, not the least of which is cost. According to First Wind, utility-scale solar projects can now be built below a utility's avoided cost. For example, the developer recently submitted a plan to the Hawaii Public Utility Commission for a 20 MW solar project.
In its proposal, First Wind says power from the planned project will be sold to Hawaiian Electric at $0.156/kWh, which is significantly less than the utility's recent cost of generating power of $0.233/kWh.
'And because of that, there's very high acceptance [of our projects] in the community,' Wescoatt says.
What about your site? Does it have the characteristics needed to successfully co-locate wind and solar projects? According to the experts, there are several factors to consider.
Location. As in real estate, location is everything. Ideally, explains First Wind's Wescoatt, 'You're looking for land in large, flat areas.' While wind turbines can be sited atop mountainous ridgelines, he says such a location is not the best use of land for solar. Wescoatt says the best sites for solar should feature south-facing slopes because the sun tracks across such terrain more often over the course of a year than it does north-facing slopes.
Spacing. Historically, it was believed that the shadows cast on solar panels by wind turbines led to high yield losses; however, recent studies suggest the losses are lower than previously thought.
'The wind turbines must be located in such that they do not shade the solar panels – even the occasional flicker from the spinning rotor will disrupt energy projection and potentially threaten power electronics,' Tholke says.
Wescoatt notes that solar resource maps can help determine irradiance and, thus, how much space solar panels need to co-exist with wind turbines.
Interconnection. If you have maxed out transmission capacity from your wind farm, then you're going to have to add another point of interconnection, which can be cost prohibitive. At First Wind's 69 MW Kawailoa wind project, the company is designing a new transmission line to interconnect the solar output to the grid.
Of course, combining wind and solar sources of generation will not work everywhere. While operational efficiencies would be an advantage, notes Milton Howard, vice president of Duke Energy Renewables, there are other considerations, such as available transmission capacity.
'Every project, wind or solar, must stand on its own merit,' Howard says. 'We do have wind projects in high irradiance areas, and we are considering adding solar if it makes sense.'