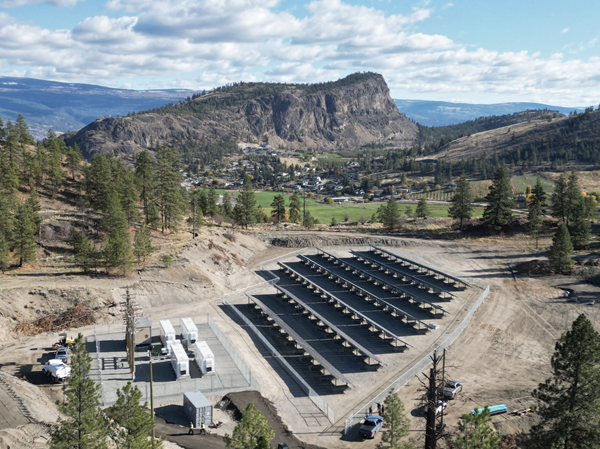 Wildstone Construction Group and SkyFire Energy have marked the opening of Summerland, British Columbia's first utility-scale solar facility.
Summerland is one of five municipalities in the province to own its electrical utility, allowing the community to keep money in the local economy and increase the resiliency of the power grid, says Wildstone.
The project utilized 80% local construction labor and Canadian-based manufacturing for the solar PV racking and the battery energy storage system. The facility was secured using a geo-ballast system that anchors the array to the ground utilizing local boulders and rocks, helping to minimize the project's carbon intensity.
The Summerland Solar+Storage Facility features a battery energy storage system capable of grid forming, peak shaving and ancillary services, says Wildstone. This is meant to eliminate short-term demand spikes and lower peak loads, reducing overall demand costs. The project's control strategy was tailored for integration into the microgrid control system.
"On behalf of the Wildstone/Skyfire Joint Venture team, it has been an honor to work with the District of Summerland and ATCO in the development, design, and construction of the Summerland Solar+Storage Project," says Matt Simard, Wildstone's director of corporate development.
"It has been an exciting journey to be a part of this project. I first sat in on the funding announcement presentation back in 2018. So, to have the opportunity to actually build this exciting project is pretty special," adds SkyFire Energy's Landon Aldridge.
"Kudos to the District of Summerland for having the vision to incorporate such a unique project into their utility. This is a great example for other municipal-owned utilities to follow. Congratulations to the Wildstone, EVLO, Westpark, and Chute Creek teams, as well as the other consultants and partners on a successful project."
The multi-phased project was a joint venture between Wildstone Construction Group and Skyfire Energy. Battery components came from EVLO Energy Storage, a subsidiary of Hydro Quebec. Civil construction was completed by Okanagan-based contractor Chute Creek, and electrical interconnection and controls were completed by Penticton-based company Struthers Technical Solutions Ltd.