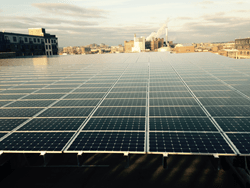 New Jersey-based Pfister Energy has completed the installation of a 500 kW solar parking canopy at the McHenry Row shopping and residential complex in Baltimore.
The photovoltaic array, which is on the roof deck of McHenry Row's east parking garage, provides not only clean energy to the facility but also shading for the cars on the top deck of the garage.
The Maryland Energy Administration provided a grant to McHenry Row for the project.