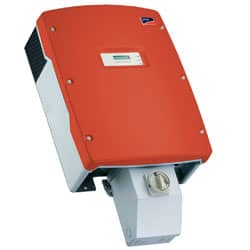 The global PV inverter market is forecast to reach $8.5 billion by 2014, growing at a compound annual growth rate of nearly 25%, according to a new report from IMS Research. The report also states that more than 7 million inverters will be sold in 2014, up from less than 1 million in 2009.
Despite a factory-gate price decline of around 11% in 2010, revenues generated from PV inverters more than doubled and exceeded $5 billion for the first time. In the longer term, positive growth is predicted to continue, despite ongoing price reductions and architecture changes, and the market will double in size again in the next five years, IMS says.
Although the development of the PV inverter market is closely linked to PV installations, inverter demand became decoupled from underlying installation growth last year due to shortages, component bottlenecks and double-ordering. The resulting effects were large shifts in suppliers' market share and a major supply-demand imbalance.
According to the report, a bottleneck in component supply in early 2010, coupled with a booming German market, led to a severe shortage of inverters, which was further compounded by customers' double-ordering amidst the panic. This shortage affected some inverter suppliers more than others, and suppliers such as SMA lost market share, while others such as Power-One captured major share.
This report has confirmed that this shortage has now abated and that the balance has shifted toward a major oversupply of inverters, with high levels of inventory recorded in the fourth quarter of 2010 and the first quarter of this year.
'Despite the shortage of inverters at the beginning of 2010, IMS Research estimates that more than 2 GW of inverters were produced that were not needed,' says Ash Sharma, PV research director. 'This has led to high inventory levels, both at suppliers' warehouses and throughout the supply chain. This came as a direct result of double-orders being fulfilled and has also led to cancellations and push-backs of orders.'
Although announcements from micro-inverter and power-optimizer vendors grabbed the headlines in 2010, the biggest architecture changes came from traditional inverter suppliers, with a dramatic shift toward small three-phase products, typically rated below 20 kW, according to the report. These products were the fastest selling in 2010 and gained major share due to installers' preferences for them in commercial installations up to 100 kW to 200 kW.
Very large inverters above 500 kW also experienced high growth in 2010, with shipments increasing by more than 250% due to robust demand from megawatt-scale PV plants around the world. In the longer term, IMS Research predicts this will be one of the most promising segments of the market for a number of reasons.
'Large central inverters above 500 kW – or even 1 MW – will become an increasingly attractive business area for many suppliers as high demand is anticipated from utility-scale projects in several countries, including the U.S. and India,' Sharma says. 'In addition, these products are typically highly engineered, with advanced functionality and design, which attract healthy margins and also prevent low-cost competitors from stealing market share.'
SOURCE: IMS Research
Inverter photo courtesy of SMA America