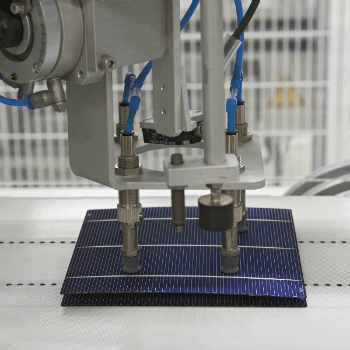 Equipment spending by tier-one PV manufacturers is poised to resume in 2013, with strong double-digit annual growth rates forecast out to 2016, according to new research featured in the latest NPD Solarbuzz PV Equipment Quarterly report.
This upturn in capacity expansion is being stimulated by the PV manufacturing shakeout, as non-competitive production lines are either being idled, retired or removed following corporate failures.
'Capacity taken offline is just one reason why PV equipment suppliers are planning for future growth,' explains Finlay Colville, vice president at NPD Solarbuzz. 'Tier-one manufacturers are also choosing to run existing production lines at reduced utilization rates during 2012, while increasing the level of outsourced wafers and cells.
'This is helping to restore a healthier supply-demand balance to the PV industry, thereby removing the underlying deterrent holding back the release of new capex,' he continues.
PV equipment revenues – covering crystalline ingots to modules, as well as thin film – for the first quarter of 2012 (Q1'12) fell to $1.75 billion, a 10-quarter low. The numbers were down 27% quarter-over-quarter (Q/Q) and 51% year-over-year (Y/Y). However, the capex downturn is forecast to finally bottom out during Q2'12, following six consecutive quarters of negative growth.
The rebound in spending will be characterized first by new order intake driven by a select group of tier-one manufacturers, NPD Solarbuzz predicts. Positive Q/Q growth in new orders will emerge in the second half of 2012 (2H'12) as capacity expansion plans are revised to address market-share aspirations for 2013 and beyond. This will be reflected in PV book-to-bill ratios that will return above parity during 2H'12.
The severity of the cyclic spending downturn is having a dramatic impact on PV equipment suppliers in 2012, NPD Solarbuzz notes. Most leading equipment suppliers are now projected to see Y/Y PV-specific revenue declines in the 60% to 80% range.
Suppliers that already serve market segments adjacent to PV (such as semi, display and LED) have experience in how to manage capital equipment spending cyclicality, so they will be best positioned to cope with the PV downturn during 2012.
However, equipment suppliers that had aligned their core business activities to focus mainly on the PV industry will be particularly affected, with further workforce adjustments and negative operating margins likely.
'Supplier rankings are undergoing a transition phase in 2012, with significantly less revenues on offer to the PV equipment supply chain,' says Colville. 'The leading PV equipment suppliers during 2012 may be those able to recognize the most deferred revenues that were accumulated as PV backlog by the end of 2011, or those already secure as preferred suppliers to tier-one producers adding new capacity during 2012.'
Based purely on trailing-12-month PV-specific revenues, Meyer Burger is projected to claim the top-ranked position among PV equipment manufacturers during 1H'12, thereby ending Applied Materials' 14-quarter reign that dates back to 2008.
This ascendancy is due in part to Meyer Burger's consolidating a significant fraction of Roth & Rau's 2011 PV revenues during 2H'11 and a very strong deferred backlog accumulated by the end of 2011, the report explains.
However, by the end of 2012, GT Advanced Technologies (GTAT) is forecast to emerge as the top PV equipment supplier on a revenue-recognized basis. According to NPD Solarbuzz, GTAT is presently the only leading PV equipment supplier with a significant PV backlog that is dominated by chemical vapor deposition reactors for polysilicon expansions, which have investment phases that are not directly tied to ingot-to-module and thin-film spending cycles.
Photo credit: Conergy AG