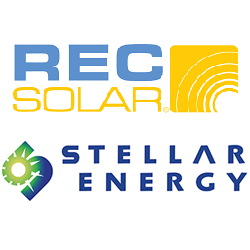 San Luis Obispo, Calif.-based REC Solar has acquired Rohnert Park, Calif.-based Stellar Energy.
Both companies have a strong focus on commercial and industrial (C&I) solar projects. Al Bucknam, CEO of REC Solar, says that although Stellar Energy's project portfolio and geographic footprint are a good fit with his company, the acquisition of sales, project management and technical talent in key vertical markets was the key factor in the acquisition.
'The deal is about the pipeline and the people,' Bucknam says. 'Stellar Energy has a very experienced group. As we are looking to aggressively grow, the Stellar Energy team fit right in with our needs.'
REC Solar says it plans to retain most of Stellar Energy's personnel. Ted Walsh, president of Stellar Energy, will join REC Solar as vice president of business development. Stellar Energy has clients in the agriculture, food and beverage, manufacturing, mining and energy, and entertainment industries, as well as school districts and municipalities. Bucknam says Stellar Energy's expertise in each of these sectors will help REC Solar build its C&I business.
At the same time, the acquisition will provide REC Solar with more than 60 MW from 62 solar projects, bringing its portfolio to over 200 MW installed or under construction. Most of these projects are in northern California; however, there are also projects on the East Coast, including New York. REC Solar is also gaining an additional 28 MW of operations and maintenance contracts.
'One attractive element geographically is Stellar Energy's main office in the Bay Area,' Bucknam says. 'In addition to the existing personnel, the location will help our ability to recruit new talent in that area.'
REC Solar will likely search for a new office facility in the Bay Area that has warehouse space that it can stage projects from.
Earlier this year, Duke Energy acquired a majority stake in REC Solar. Bucknam credits this relationship as an important factor in the company's C&I expansion. 'The fact that we have the investment we received from Duke to finance our solar projects makes us a more attractive owner of a company like Stellar Energy,' he says. 'From their team's perspective, I'm sure they have found us to be a better home by virtue of our relationship with Duke.'