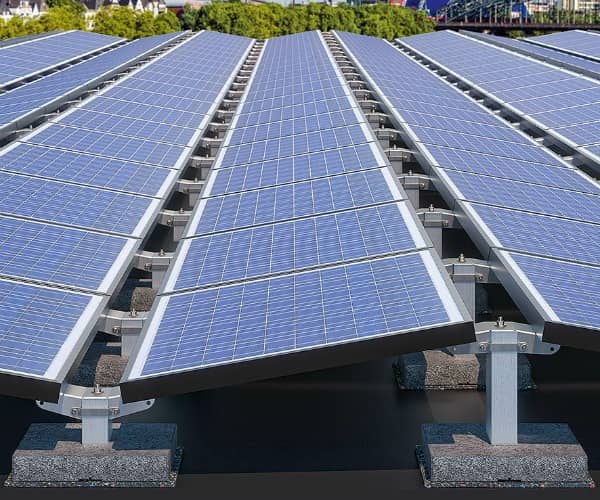 Renusol America has introduced a ballasted east-west racking and mounting system intended for flat commercial rooftops in North America.
The Renusol EW system follows the launch of a similar product in Europe last year and suggests that such a configuration is approaching mainstream levels of acceptability.
'We decided to go the east-west route instead of a more traditional south-facing system because the east-west system has several advantages,' says Bart Leusink, CEO of Renusol Americas. 'You get a higher density of modules on the roof than you can achieve with a south-facing system. With the cost of modules continuing to come down, you are not adding a lot of expense. And while you cut your peak in the middle of the day, you extend sun hours and overall generation.'
According to Leusink, as more areas in the U.S. move to time-of-use electricity rates, the market for east-west-facing solar panels will continue to expand. Having those extra two or three hours in the late afternoon, when usage is at its peak, is very desirable.
'The primary interest is from the Southwest, where we began to see incentives for west-facing systems,' Leusink says. 'It is more important when electricity is being generated than how much peak capacity the installation has.'
From a system design standpoint, east-west installations with a lower peak capacity enable lower-capacity inverters to be be specified. Instead of scaling the inverter to the peak noon output, the highest output of a string of east- or west-facing rows determines the size of the inverter. This is generally lower than what a noon-peaking arrangement would require.
Leusink says that racking and mounting structures with an east-west orientation enable the sharing of parts between paired rows of modules. On top of that, there is the advantage that the gable-like structure of the paired modules provides wind deflection as a built-in feature. This brings the cost of the mounting system down compared to the wattage that is being installed.