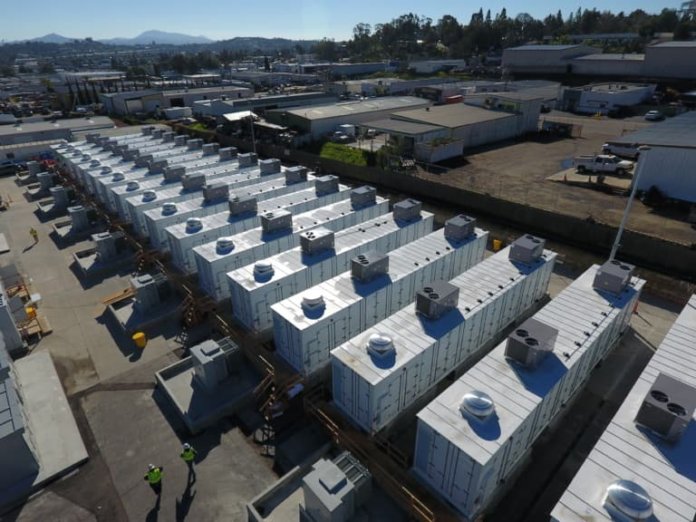 According to the latest U.S. Energy Storage Monitor report from GTM Research and the Energy Storage Association, 41.8 MW of energy storage were deployed across the U.S. in the third quarter of 2017 (Q3'17). This represents 46% growth year-over-year and 10% growth compared to the previous quarter.
The report says the front-of-meter segment continued to drive the greatest share of the market. More than two-thirds of total deployed capacity for the quarter came from a single 30 MW project in Texas. The report notes additional, but smaller, utility projects came online in Florida, Tennessee and Massachusetts.

The size, use cases and geographic diversity of front-of-meter projects will continue to increase. According to the report, utilities across 14 U.S. states have included nearly 2 GW worth of storage into their integrated resource plans (IRPs).
"Energy storage is increasingly acknowledged in utilities' long-term resource planning across the country," says Ravi Manghani, GTM Research's director of energy storage. "Many utilities that hadn't considered energy storage in IRPs a year or two ago are now explicitly modeling hundreds of megawatts of storage into their resource stacks. It's also encouraging to see consistent mention of multiple values that storage can provide to the grid."
"Energy storage deployments are increasing rapidly, as more policymakers and grid planners are recognizing the many benefits of storage," says Kelly Speakes-Backman, CEO of the Energy Storage Association. "Coupled with policies that provide a clear signal to markets, and regulatory reforms that compensate storage for the full value it offers, we see this trend continuing toward 35 GW by 2025."
According to the report, the residential energy storage segment hit a new high-water mark after a surge in new deployments, largely driven by California's Self-Generation Incentive Program and Hawaii's Customer Self-Supply Program. The U.S. saw, on average, nine new grid-connected home energy storage systems deployed per day in the Q3'17, totaling 4.2 MW. The report says this represents growth of 202% year-over-year.
The non-residential segment experienced a relatively quiet quarter in which 6.8 MW of energy storage were deployed. However, GTM Research is expecting a rebound for the segment in Q4'17 and Q1'18, as projects that recently reserved funding are expected to come online.
GTM Research expects 295 MW of energy storage to be deployed in total in 2017, up 28% from the 231 MW deployed in 2016.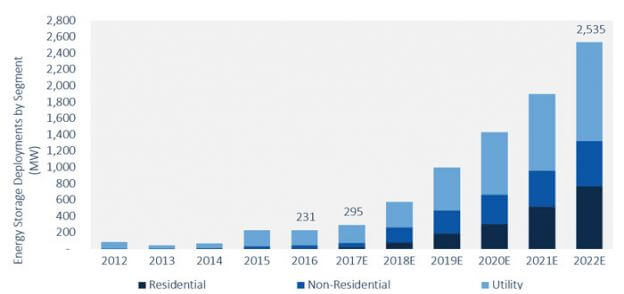 The 95-page report offers other insights, including the following:
California led in both residential and non-residential energy storage deployments in Q3'17;
Annual market will nearly cross the 1 GW annual deployment threshold in 2019 as procurement programs and improved economics come to the forefront;
Behind-the-meter deployments (residential plus non-residential) will make up half the annual market by 2021;
The U.S. energy storage market will be worth $3.1 billion by 2022, a nine-fold increase from 2016 and a sevenfold increase from 2017; and
The residential segment only contributed 4% of revenues in 2016 and is expected to be about 10% this year, though this value will grow to 38% by 2022 when the annual market will be worth $1.2 billion.
Charts courtesy of the GTM Research/ESA "U.S. Energy Storage Monitor, Q4 2017," report. A free executive summary of the report is available for download here.
Photo courtesy of SDG&E