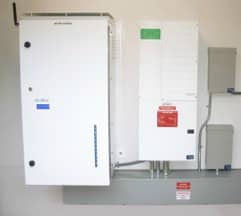 Rising Sun Solar has installed an 8.6 kWh energy storage system for a residential solar project on the Hawaiian island of Maui.
The JuiceBox Energy Storage System is an automotive-grade lithium-ion battery pack with proprietary charge control and energy management system coupled to the Schneider Conext XW+ inverter.
The system is designed to support grid-tied, grid-isolated and off-grid configurations. Each configuration enables peak shifting, back-up power, energy-efficiency and energy transaction exchange functions. A cellular gateway to a secure cloud-based repository enables remote monitoring, updates and control.
The system was installed at the home of Brad Albert, Rising Sun Solar's co-owner.
'By installing the JuiceBox Energy system at my own home, I'm showing my customers that I believe this is an invaluable product for Hawaii homeowners who want to guarantee utility approval, keep the lights on when the grid goes down and improve the return on their investment in solar,' Albert says.