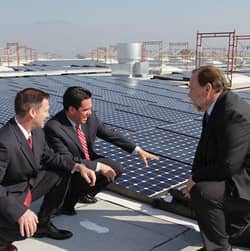 Rooftop PV is out, and ground-mounted installations are in, according to a petition that Southern California Edison (SCE) submitted this month to the California Public Utilities Commission (CPUC). SCE is seeking major modifications to its solar PV program, which originally received CPUC approval in June 2009.
As currently structured, the program requires SCE to deploy 250 MW of utility-owned generation (UOG) and an additional 250 MW of PV to be owned and operated by independent power producers (IPPs) over a five-year period (dating from the program's approval). Thus far, SCE says it has 26 MW of its UOG portion installed at 11 sites and an additional 22 MW under construction at five sites.
Now, the utility has requested that the CPUC grant permission to revamp the program as follows:
– reduce the UOG component to 125 MW,
– reduce the existing IPP component to 125 MW, and
– designate the remaining 250 MW as a 'revised IPP' component.
Most crucially, the revised IPP component would be reassigned to a separate competitive solicitation – without the original program's deployment restrictions. Those restrictions, imposed by the CPUC when the program was originally launched, mandated that no more than 10% – or 25 MW – of PV installations in both the UOG and IPP components be ground-mounted.
Under SCE's proposal, the 250 MW revised IPP program would be designated for 'distributed solar PV of up to 20 MW, without any limitation on ground-mounted installations.'
In addition, both the UOG and existing IPP portions of the program would enjoy somewhat loosened rules. SCE has asked the CPUC to allow ground-mounted installations of up to 50 MW, with a limit of up to 25 MW each in both the UOG and existing IPP segments.
In the years that have passed since the PV program's debut, California's solar market has undergone a transformation, thus necessitating these changes, SCE claims.
'SCE's entrance into the solar PV market through implementation of the program encouraged development of solar-generated electric power by, among other things, increasing the options available for installing and operating commercial PV,' the utility writes in its petition.
In particular, SCE believes that California's non-SCE-owned growth in rooftop PV has made this particular market segment 'less critical to fill' through both its UOG and IPP channels. Meeting program obligations under a revised solicitation process – with no or relaxed limits on ground-mounted PV, depending on the segment – would also ultimately result in lower ratepayer costs, according to the utility.
Practical implementation concerns also influenced SCE's turn away from rooftop PV. 'The economic downturn has reduced the amount of new large commercial and industrial rooftop space available for solar PV installations,' the utility points out. 'Newer roofs have a greater chance of being structurally and economically suitable for coverage by solar panels.
'Moreover, the additional competition for rooftops created by the commission's requirement to double the program from 250 MW to 500 MW has also limited the availability of existing vacant and suitable rooftop space,' SCE adds.
The utility has requested a decision from the CPUC by June 9. It remains to be seen whether the commission will validate SCE's economic reasons for de-emphasizing rooftop PV and ramping up ground-mounted PV.
However, SCE's trouble locating suitable rooftop space for deploying PV reflects a proven broader issue that has recently garnered attention in the solar sector. (See the October 2010 cover story of Solar Industry.)
Given SCE's prominence in the industry (the utility says that in 2009, it purchased roughly 80% of all solar power generated in the U.S.), its rooftop PV struggles and resultant decision to pursue a new direction in PV deployment could be a leading indicator.
Photo: SCE solar power project director Mark Nelson (right) at a Redlands, Calif., rooftop PV installation with Redlands Mayor Pete Aguilar (center) and Mike Englhard of ProLogis, the building owner. Photo courtesy of SCE.