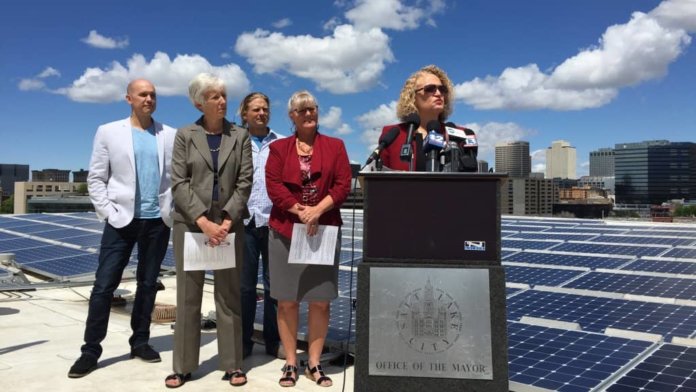 After signing up for a utility-sponsored program, Salt Lake City will double its current amount of municipal solar power.
Mayor Jackie Biskupski says that, through Rocky Mountain Power's new Subscriber Solar program, the city will up the amount of solar powering government operations from 6% to 12% by the end of the year. Biskupski has set a 2020 goal to have 50% of municipal operations powered by renewable energy, and 100% by 2032.
"We are thrilled to align with Subscriber Solar and invest in clean, carbon-free energy to better serve our community," says Biskupski. "This commitment is just one of many major steps we will make toward a more sustainable energy future during my time as mayor."
"Salt Lake City is once again showing its pioneering spirit by being the one of the first to sign up for the Subscriber Solar program and make a substantial commitment to renewable energy," adds Rocky Mountain Power CEO Cindy Crane. "It is our hope other communities, businesses and residents will follow Salt Lake City's lead on Subscriber Solar."
According to a press release, the new program offered by Rocky Mountain Power allows customers to align their energy needs with power generated from a new solar farm in Holden, Utah, about two hours south of Salt Lake City. The project will be completed in December, and enrolled customers will be switched over to the Subscriber Solar rate schedule starting in January 2017.
Salt Lake City currently has more than 4,000 solar panels installed on its government properties. The new Subscriber Solar initiative will provide 3 MW, more renewable energy output than all municipal projects completed to date, says Biskupski.
Photo courtesy of Mayor Jackie Biskupski's Twitter account