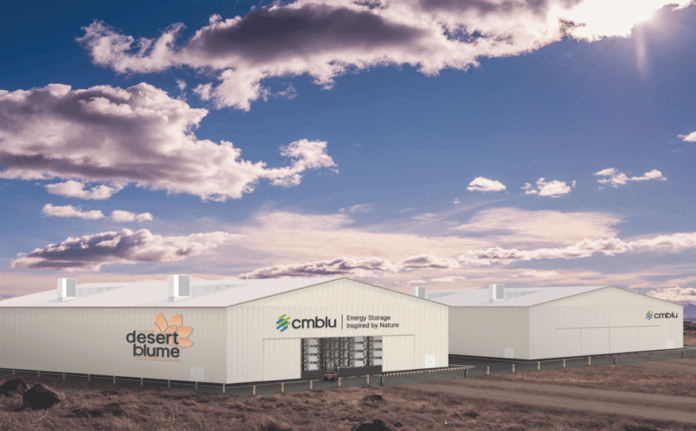 Salt River Project (SRP), a public power utility serving the greater Phoenix metropolitan area, and CMBlu Energy, a designer and manufacturer of long-duration Organic SolidFlowT energy storage systems, are collaborating on a pilot project to deploy long-duration energy storage (LDES) in the Phoenix area.
The 5 MW, 10-hour-duration project, named Desert Blume, will use CMBlu's unique non-lithium technology, and the firm will build, own and operate the batteries on behalf of SRP at its Copper Crossing Energy and Research Center in Florence, Ariz.
SRP is the first U.S. electric utility to implement CMBlu's batteries at this scale.
CMBlu's Organic SolidFlow battery technology uses a non-flammable proprietary mixture of solid electrolyte and water-based electrolytes with high energy density and performance. The systems are fully recyclable, free of rare metals and housed inside buildings. CMBlu expects its battery system to cost-effectively store and deliver energy for two-to-three times longer per cycle than traditional lithium-ion technology, which typically targets a four-hour duration.
The project is designed to store energy for SRP's customers during daytime periods, largely from Arizona's abundant solar generation, and return that energy to the grid throughout the night. It will store enough energy to power about 1,125 average homes for 10 hours.
This pilot is part of an approved third phase of continued development at SRP's Copper Crossing Energy and Research Center. The first phase will add two flexible natural gas turbines with a total output of less than 100 MW, and the second phase will add a utility-scale advanced solar generation facility capable of generating up to 55 MW of solar energy.
SRP selected CMBlu after issuing a request for long-duration storage project proposals from emerging energy storage companies. The Electric Power Research Institute (EPRI) will support performance monitoring of this pilot project and help validate the real-world performance of the technology in Arizona's hot and dry climate. Construction is slated to begin in early 2025, and SRP and CMBlu expect the pilot to be operational in December 2025.