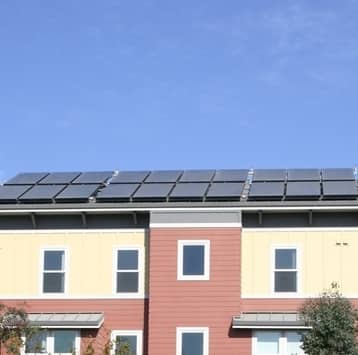 The California Solar Water Heating Pilot Program, which operated in the San Diego area during 2007-2009, helped drive a statewide program for rebates for solar thermal applications, according to a new report from the California Center for Sustainable Energy (CCSE). CCSE administered the pilot program for the California Public Utilities Commission (CPUC).
More than 340 residential and commercial solar water heating systems were installed in the San Diego region during the 30 months of the pilot program, with rebates totaling nearly $540,000. Funding for the rebates came from the CPUC and utility ratepayers statewide.
Based on the success of the pilot program, the CPUC established a statewide solar water heating rebate program under the California Solar Initiative (CSI) called CSI-Thermal in January 2010. The commission allocated $350.8 million, with the goal of installing 200,000 systems in the state by 2017. CCSE administers the CSI-Thermal program in the San Diego Gas & Electric service territory.
In addition to providing rebates of up to $1,500 for residential solar water heating systems and $75,000 for commercial installations, the pilot program was designed to gather data to evaluate the effect of incentives on the adoption and marketing of the technology, according to CCSE.
The report shows that single-family homes that installed solar water heating experienced an average monthly utility bill savings of $11.29 for displacing natural-gas water heating and a savings of $41.08 when displacing electric water heating.
The report also found that single-family participants appeared to be driven to install solar water heating slightly more by environmental concerns, whereas commercial/multifamily residential owners were driven mostly by financial interests. Increasing energy costs, concerns about greenhouse gas emissions and improved technology were found to be contributing factors to increasing interest in solar water heating.
One of the major conclusions was that solar water heating and solar photovoltaic generation, in combination, offers a faster path toward a true zero-energy home, CCSE adds.
'We believe that an opportunity exists to combine incentives and outreach for solar water heating and PV in ways that provide consumers with increased options for managing electricity and natural-gas consumption and increased greenhouse gas emission reductions,' says Jordan DiGiorgio, CCSE program manager for solar water heating.
The report was prepared for CCSE by Itron Inc. of Davis, Calif. A copy of the report and additional information about the current CSI-Thermal program and rebates can be obtained online.
Photo: Solar thermal installation at Peninsula Station, a multifamily property in San Mateo, Calif. Credit: SunWater Solar