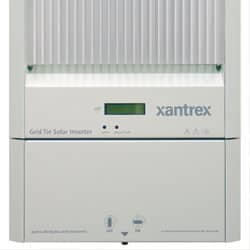 The U.S. Consumer Product Safety Commission (CPSC), in cooperation with Livermore, Calif.-based Schneider Electric, has announced a voluntary recall of approximately 25,000 Xantrex-branded grid-tie solar inverters.
Faulty inverter components are readily associated with dangerous arcing, fires and electrocution, and the news triggered alarm bells in the solar sector. However, Matthew Campbell, manager of solution communications for Schneider Electric's renewable energies business, is quick to clarify that the injury-creation potential is limited to the inverter's cover.
On affected inverters, the capacitor – a small component installed on an AC interconnect on the circuit board – can degrade, Campbell tells Solar Industry. This process results in outgassing within the wiring component of the inverter itself, possibly causing the compartment's cover to pop off with enough force to cause injury or property damage.
'The cover will be blown off, but no risk of a thermal event could occur,' he says, adding that the company has received no reports of personal injury to damage to property. Five blown-off covers have been reported so far, according to the CPSC's recall announcement.
Campbell says that following a round of technical tests, Schneider Electric identified the capacitors as inherently faulty on certain inverters.
Although no other inverter manufacturers have encountered this type of capacitor failure (to his knowledge), he believes similar incidents at other companies are not outside the realm of possibility. 'We cannot predict a degrading of a particular component,' he points out.
Affected products, which were sold under the Xantrex, SunPower and General Electric brands to solar system integrators and product distributors from September 2005 through January 2011, display certain part numbers on the top of the unit. The full list of these part numbers is available here.
The CPSC warns that consumers who own a recalled inverter must immediately stop using the product and contact their authorized dealer in order to set up an appointment to repair it. In this case, product replacement is not necessary.
Campbell says the inverter repair, which is completed free of charge, involves only a quick component exchange. 'It's a very small circuit board,' he explains. 'The repair is to remove and replace the circuit.'
Product dealers and system integrators who have sold the affected inverters can call Schneider's recall hotline at (800) 714-7176. End users in possession of the products can either call the hotline or contact their installer for repair information, Campbell says.
'The dealer and installer base has been very understanding and pleased with the containment action,' he notes. 'This is an entirely feasible fix, and we have had no negative responses so far.'Â