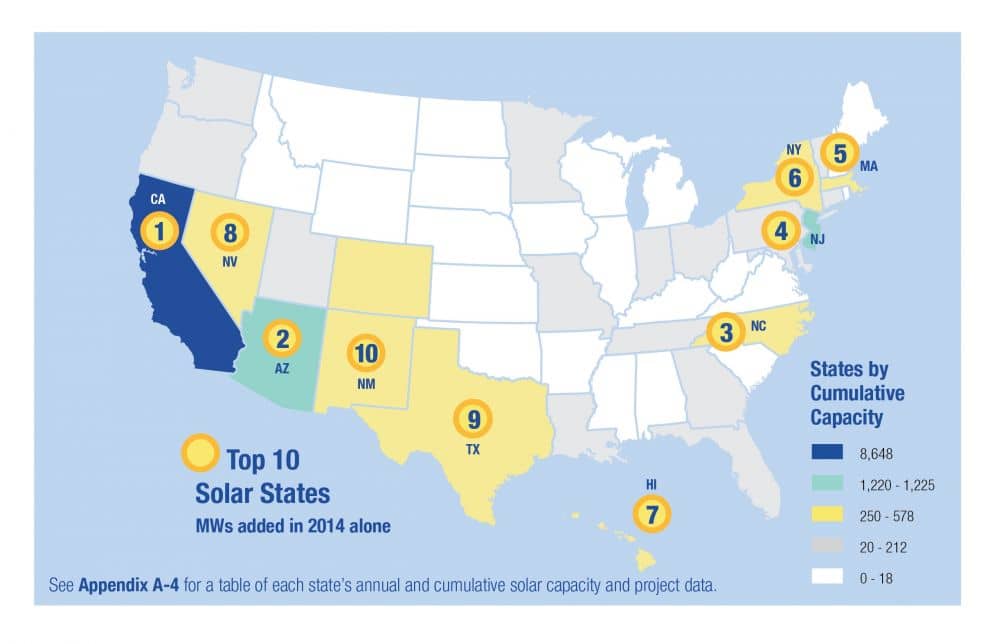 The Solar Electric Power Association (SEPA) has released its top 10 rankings of U.S. utilities based on the amount of solar capacity each added to the grid in 2014.
SEPA has parallel lists of total solar capacity added and the most added per customer. Pacific Gas and Electric Co. (PG&E) of California headed the list of the most total capacity installed, with 1,504.5 MW added. The Pickwick Electric Cooperative of Selmer, Tenn., topped the list of the most solar per customer, with 1,679 W added.
The utilities ranking in this year's top 10 accounted for 72% of all new solar interconnections on the grid in 2014. Aside from PG&E, California's other two investor-owned utilities – Southern California Edison and San Diego Gas & Electric – were ranked No. 2 and No. 3, respectively, on the list for total capacity installed.
On the watts-per-customer list, the Farmers Electric Cooperative of Kalona, Iowa, and the City of St. George Energy Services Department in Utah held down the No. 2 and No. 3 spots.
The eighth annual top 10 rankings are part of the educational nonprofit's 2014 Utility Solar Market Snapshot report.
The full report identifies a number of industry trends, including the following:
Utility-scale solar's ongoing importance as a main driver of market growth;
The emergence of dynamic solar markets outside California and Arizona; and
The impact of the industry's continuing focus on cutting soft costs, along with utilities' efforts to improve their interconnection processes.
'We are 100 percent committed to solar energy and its role in California's energy future,' says Laurie Giammona, PG&E's senior vice president and chief customer officer. 'Together with our customers and partners, we have worked to shorten connection times and help solar grow in our state. SEPA's recognition shows this collaboration is paying off.'
The 2014 Utility Solar Market Snapshot, including the top 10 listings, can be found here.