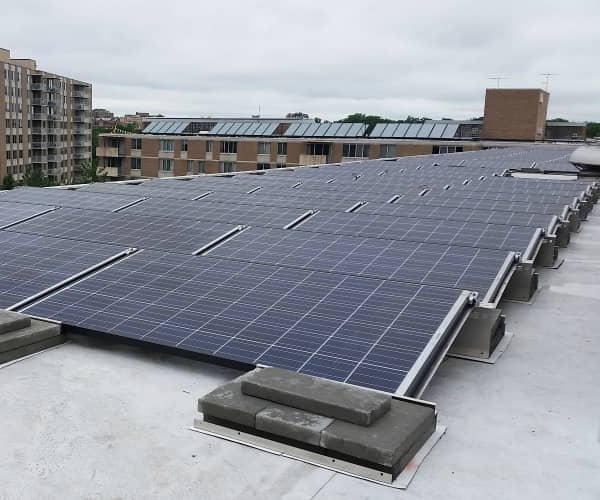 Waynesboro, Va.-based Sigora Solar has completed a solar energy and thermal hot water project in Washington, D.C., for Nextility, which will own and operate the system.
The project consists of a single closed-loop solar domestic hot water heating system with 74 solar collectors along with a 92 kW photovoltaic energy system. Flemington, N.J.-based Rack 10 Solar provided the mounting for the PV element.
To maximize electricity production on the crowded rooftop, Nextility chose a 10-degree tilt angle for the PV panels with an aggressive 13-inch inter-row spacing. Rack 10 Solar was able to manufacture and supply its Shark Series ballasted racking system with a shortened inter-row spacing in less than four weeks.
Jason Snyder, vice president of Rack 10 Solar, says the racking system did not require any modifications or additional roof stanchions to withstand 120 mph wind-speeds and the 115-foot rooftop elevation.