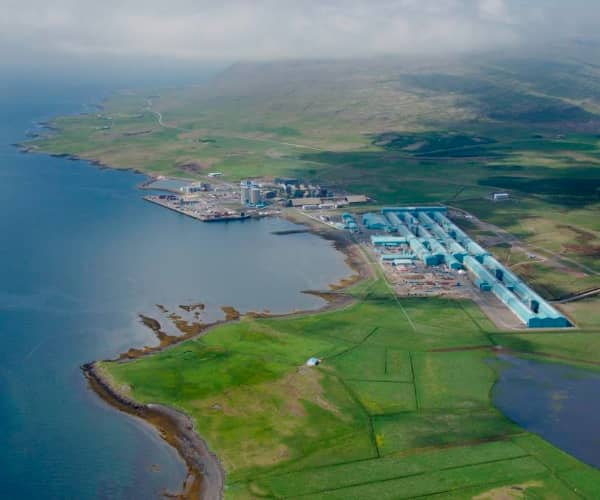 Silicor Materials has signed a contract with Denmark-based engineering firm MT Hojgaard for the design and construction of its planned silicon plant in Grundartangi, Iceland, that will supply manufacturers of photovoltaic cells.
The $226.5 million contract provides for the building of a 121,000 square-meter facility that is expected to produce 16,000 metric tons (MT) of Silicor's solar-grade silicon per year. The agreement is the latest link in a chain of deals the company has forged to realize its plan to produce raw material for the solar sector at a fraction of its current cost. In April, Silicor signed port and land agreements with Faxafloahafnir SF to provide logistics and shipping services.
Construction of the facility is scheduled to begin in early 2016.
Terry Jester, CEO of Silicor Materials, says Iceland was something of an outlier in the company's search for a location for commercial-scale operations. Jester says a U.S. location was ruled out because of the volatility of solar trade relations with the principal market for silicon, China. 'Optimists say these issues will be resolved, but optimism is not necessarily a good basis for a business plan,' she says.
At the same time, China was quickly crossed off the list due to concerns over the protection of intellectual property. Saudi Arabia and Malaysia were considered and discarded. Silicor Materials has a pilot production facility in Toronto with a capacity of about 1,000 MT; however, the costs of building a commercial-scale facility there were deemed too high. They finally got around to Iceland.
'We went to Iceland with a lot of skepticism,' Jester says.
However, the economics and business climate of the island nation proved to be a good fit for Silicor's business plan. The abundance of geothermal and hydropower results in very inexpensive electricity costs. Iceland's existing metallurgy industries include significant aluminum and silicon expertise, which dovetails nicely with the two most important materials used in Silicor's process.
Perhaps most importantly, Iceland has been welcoming.
'There is a desire there to be part of the solar business chain, albeit not with regard to installing panels because of the weather,' Jester says. 'But there is interest in being part of the solar supply chain.'
Silicor received its environmental permit in 60 days. The company's detailed master plan was granted within a year, which Jester says is a very short time when it comes to building processing plants in Iceland. 'I think our partnership with Iceland really promotes the environmental agenda it is so proud of and believes in,' she says. 'The partnership also makes use of the expertise and business units already in the country in a positive way.'
From Silicor's perspective, the relatively inexpensive commercial energy costs in Iceland improve the payback time for solar modules produced using its process. Jester says the capital expenditures for the equipment needed for Silicor's production method is about one-third of those needed for traditional means. Silicor's method produced a grade of 'solar silicon' that, although not suitable for semiconductors, is high enough quality for PV. In March, Silicor signed a factory supply agreement with Germany-based SMS Siemag for all equipment and factory design services for the Iceland plant.
According to Jester, the initial production figure of 16,000 MT could be goosed another 20% or so if demand permits. She says most of the initial capacity has already been contracted for, mostly by customers in China.
'For us, it's just a matter of getting this first plant built,' Jester says. 'After that, I don't think there is going to be any problem at all getting financing for additional facilities.'