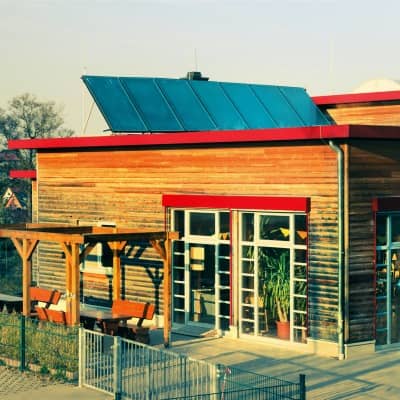 Public elementary and high schools in the U.S. have shown explosive growth in their use of solar energy over the last decade, soaring from 303 kW of installed capacity to 490 MW currently. So reports a new study by The Solar Foundation (TSF) with the support of the Solar Energy Industries Association (SEIA).
Funded through a grant provided by the U.S. Department of Energy's SunShot Initiative program, the TSF report says 3,752 K-12 schools in the U.S. have solar installations with a combined output of about 642,000 MWh of electricity each year. This represents about $77.8 million per year in utility bills, the report says.
More than 3,000 of the PV systems were installed in the last six years. Between 2008 and 2012, solar installations on U.S. schools experienced a compound annual growth rate of 110%. Moreover, of the 125,000 schools in the country, between 40,000 and 72,000 can install PV systems cost-effectively, TSF says.
The new report also found:
Nearly half of the systems currently installed are larger than 50 kW – with 55 schools hosting systems of 1 MW or larger;
About a quarter of the PV systems at schools are smaller than 5 kW;
Excluding small demonstration systems, the median system size of K-12 school PV systems is 89 kW; and
As school PV system sizes increase, so does the incidence of third-party ownership.
Offsetting energy consumption with increasingly cost-competitive solar electricity, space or water heating can deliver significant cost savings to schools and their districts, the report says. Over time, solar can serve as a key hedge against projected increases in utility rates.
As is the case with the solar sector at large, the report found that more schools are going solar as installation costs decrease. In early September, New York rolled out a new program to assist public schools in the state to implement solar power development plans.
The top 10 states with solar-powered schools ranked in the report by kW installed are as follows:
California – 217,636
New Jersey – 91,410
Arizona – 66,288
Massachusetts – 25,400
Nevada – 15,215
Pennsylvania – 10,892
Ohio – 8,526
Connecticut – 8,428
Maryland – 8,349
New York – 7,316
To see a copy of the report, 'Brighter Future: A Study on Solar in U.S. Schools,' click here.